FP Mailing Qi 2000 Franking Machine Overview
The FP Mailing Qi 2000 franking machine is a heavy duty model that is capable of franking at incredible speeds. It is perfectly designed for larger businesses sending out over 1000 mail pieces per day. This is our recommendation based on our own experience with a similar franking machine.
FP Mailing Qi 2000 Franking Machine Features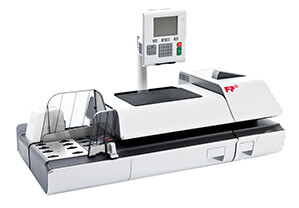 As this is a heavy duty machine, it is designed for large volumes and so comes with a wide range of franking machine features. These features vary from integrated technologies to a free advertising feature. View some of the incredible franking machine features that come with the FP Mailing Qi 2000 franking machine in more detail below.
Feeding System
The FP Mailing Qi 2000 franking machine comes with a fully automatic feeding system as standard and this can frank at a top speed reaching 260 letters per minute. If you use the dynamic weighing feature then a slower speed of 140 letters per minute can be reached. Frank onto any mail item that is 20mm or less and ensure that every franked impression is clean and clear every time.
Advertising Feature
An advertising feature also comes as standard with the Qi 2000 model. This feature allows up to 9 different adverts / slogans to be stored onto this machine. Frank clean and clear messages on your mail to help expand your business name. This tool can be used as free marketing to help increase your profits.
Mailmark Technology
The latest Mailmark technology can be used with the FP Mailing Qi 2000 franking machine meaning that exclusive Mailmark benefits can be taken advantage of. Use the lowest postage discounts, track mail items from A to B and frank a brand new 2D barcode to improve the look of your mail. Find out more about Mailmark here.
LAN Connectivity
As this machine can use Mailmark, you can drop the analog line for good and upgrade to a securer and faster LAN connection. Receive faster download speeds and top up your postage whenever you desire with LAN. LAN is much more reliable than an analog line.
Integrated Choice of Weighing Scales
One final feature that the FP Mailing Qi 2000 franking machine comes with is an integrated choice of weighing scales. This machine comes with a 3 Kg scale as standard but this can be increased to a 5 or 10 Kg scale. Even upgrade to use an external 30 Kg scale and ensure that you never over or under pay for a mail item again.
View our range of franking machines here and receive a quote for a similar franking machine to the FP Mailing Qi 2000.