FP Mailing FPi 500 Folding Inserting Machine – Guide By Mailcoms
FP Mailing FPi 500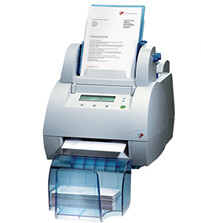 Low Volume Folding Inserting Machine (speed of up to 1,350 letters per hour)
The FP Mailing FPi 500 folding inserting machine is a low volume machine that is supplied to you by Francotyp Postalia / FP Mailing. This machine is small and compact, enabling it to fit onto a table whilst also delivering high performance for any user. It will fit into the smallest of offices and as long as you mail 50 items a day, you will see how the FP Mailing FPi 500 pays for itself.
This machine is a time saver, as a job that would take a human a good half an hour will only take the FP Mailing FPi 500 a couple of minutes. As well as being a time saver, it is also incredible easy to use as it comes with easy to follow instructions as well as one touch buttons that will allow even the occasional user to use this machine. Simply click a button and watch the FPi 500 fold and insert your mail correctly and professionally.
As well as this, the Francotyp Postalia / FP Mailing FPi 500 machine will fold and insert a range of documents, ranging from a post-card to a brochure. Each station can also hold up to 100 sheets allowing for non-stop operation with this machine.
If your business would like to save money for a folding inserting machine, then you can receive a low cost Folding Inserting Machine Quote from Mailcoms for a similar machine and see how much you can save when buying from us.
View our range of FP Mailing Folding Inserting Machine Envelopes here.
FP Mailing FPi 500 Specifications
Speed: 1,350 letters per hour
Document Feed Width: 142mm x 226mm
Document Feeder Height: 88mm x 356mm
Paper Weights: 70 gsm to 120 gsm
Pre-Folded Enclosures: Height: 80mm to 150mm, Width: 142mm to 226mm
Folding Capabilities: 5 Sheets
Insert Thickness: 250 gsm
Feeder Capacity: 100 Sheets
Insert Capacity: 5 Sheets
Envelopes: C6, DL, C5
Envelope Feeder Capacity: 100 Envelopes
Memories: 9 Jobs
Dimensions: Length: 530mm, Height: 420mm, Depth: 350mm