FP Mailing FPi 4500 Folding Inserting Machine – Guide By Mailcoms
FP Mailing FPi 4500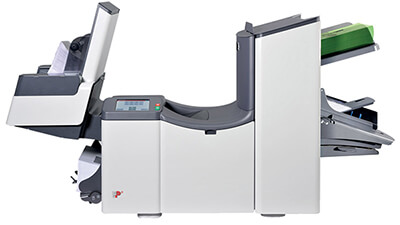 Mid Volume Folding Inserting Machine (speed of up to 3,600 letters per hour)
The FP Mailing FPi 4500 folding inserting machine is a mid volume machine that is manufactured and supplied by FP Mailing (Francotyp Postalia). It comes with incredible speeds of 3,600 folds every hour and it can produce up to 480,000 cycles every year. This machine allows you to choose from a wide range of folding options suit the needs of your mail. Choose from either a Single Fold, C Fold, Z Fold, No Fold or Double Parallel fold.
Not only this, but the FP Mailing FPi 4500 machine comes with more great features including a full colour touch screen that will allow you to use up to 20 programmable jobs with ease and also coming with clear text and graphics to aid the folding / inserting process. Not only this, but other great features include high capacity feeders, Optical Marks Reading and multi-functional feeding stations.
However, if your business would like to save money on a FP Mailing FPi 4500 folding inserting machine, then you can receive a low cost Folding Inserting Machine Quote here for a similar FP Mailing machine from us and see how much you can save when buying from Mailcoms.
View our range of FP Mailing Folding Inserting Machine Envelopes here.
FP Mailing FPi 4500 Specifications
Speed: 3,600 letters per hour
Annual Volume: 480,000 Cycles
Fold Types: Single Fold, C Fold, Z Fold, No Fold, Double Parallel Fold
Envelopes: C6, DL, C5
Envelope Feeder Capacity: 250
Feeder Capacity: 325
Insert Capacity: 25 Sheets
Folding Capacity: Up to 10 sheets
Insert Thickness: 1mm
Job Memories: Up to 20
Touch Screen: Yes
Feeder Swap: Yes
Multiple Sheet Feed: Yes
Real Sheet Control: Yes
Flexible Reading: Yes
Optical Marks Reading: Yes
Dimensions: Length: 1260mm, Height: 670mm, Depth: 460mm
Dimensions: Weight: 75 Kg
FP Mailing FPi 4500 Further Information
Document Feeder Width: 130mm x 230mm
Document Feeder Height: 90mm x 356mm
Paper Weights: 60gsm to 250gsm
Pre-fold Enclosures: Height: 90mm – 162mm, Width: 130mm – 230mm