FP Mailing Qi 3000 Franking Machine Information
The FP Mailing Qi 3000 franking machine is a heavy duty franking machine which comes with an incredible franking speed and a range of features. Frank at a speed reaching 260 letters per minute by using a fully automatic feeder and send out well over 1000 mail items per day with ease. Find out about some of the Qi 3000's franking machine features below.
FP Mailing Qi 3000 Franking Machine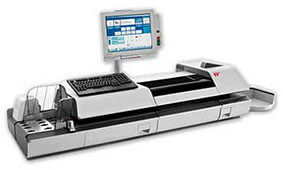 Up to 10 adverts can be accessed and used with this franking machine and this allows clean and clear adverts to be franked onto outgoing mail items. Appeal to your customers and help increase your brand awareness. Up to 15 job memories can also be accessed and this allows quick and easy access for your most commonly used jobs.
The latest smart meter franking technology can be used with the FP Mailing Qi 3000 franking machine and this enables smart blue franking ink to be used during the franking process. Also benefit from using all Royal Mail VAT services with smart meter technology and this is its main feature. Other brilliant franking machine features include an accounting feature, an integrated choice of scales and PIN code security.
Mailmark Compatibility
The FP Mailing Qi 3000 model is a Mailmark compatible machine built for heavy duty mailings. Mailmark is perfectly suited for any business sending larger volumes of mail everyday allowing for more savings. Frank a new 2D barcode onto outgoing mail and benefit from a range of added features such as using a LAN connection. Find out about Mailmark here.
Qi 3000 Specifications
View the key specifications of the FP Mailing Qi 3000 franking machine below.
Speed:

260 Letters per Minute

Weighing Speed:

140 Letters per Minute

Feeding System:

Automatic

Weighing Scales:

3, 5, 10 or 30 Kg available

Connectivity:

LAN

Max. Envelope thickness:

20mm

Job Memories:

15

Advertisements:

10

Departmental Accounts:

Yes

PIN Security:

Yes

Smart Meter Technology:

Yes

Mailmark Technology:

Yes
If you would like a franking machine similar to the FP Mailing Qi 3000 then view our range of franking machines here.