FP Mailing Qi 2000 Franking Machine Information
A heavy duty, high volume franking machine that is built to last and with the future of Royal Mail in mind. The FP Mailing Qi 2000 franking machine is built for high productivity coming with a mixed mail feeder, a dynamic scale and power conveyor to make the franking process fly by. Process over a 1000 items per day to get the most out of this franker and to truly benefit from franking.
FP Mailing Qi 2000 Franking Machine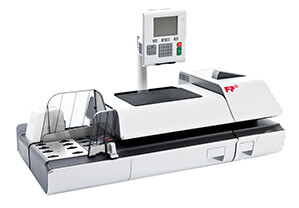 This franking machine is incredibly easy to use as it comes with a full colour touch screen. Follow clear guides and prompts to frank mail within minutes. The Qi 2000 franking machine can be used by all and to help eliminate the possibility of miss paying for a mail item, this machine comes with an integrated scale. This will easily weigh all outgoing items and automatically apply the correct postage costs.
The FP Mailing Qi 2000 model also enables re-crediting to occur 24/7. By connecting to a LAN line you can have postage funds ready when you need them. No analogue line will be required. Also benefit from franking up to 260 letters per minute with its automatic feeding system. Ensure all mail loads are sent out quickly and easily.
View our range of FP Mailing franking machine supplies here.
Mailmark Compatibility
Mailmark franking technology is a relatively new piece of technology that is currently available in many franking machines. It can give users access to a range of extras and benefits that will aid the franking process and the business using the franking machine. Fortunately the FP Mailing Qi 2000 model is Mailmark compatible, allowing businesses to make massive savings and get the most out of their mail. Find out about Mailmark here.
Qi 2000 Specifications
View the key specifications of the FP Mailing Qi 2000 franking machine below.
Speed:

260 Letters per Minute (Batch Processing)

Alternative Speed:

140 Letters per Minute (Dynamic Scale)

Feeding System:

Automatic

Weighing Scales:

3, 5, 10 or 30 Kg available

Connectivity:

LAN

Max. Envelope thickness:

20mm

Advertisements:

9

Job Memories:

15

Dynamic Scale:

Optional

Barcode Scanner:

Optional

Departmental Accounts:

Yes

PIN Security:

Yes

Smart Meter Technology:

Yes

Mailmark Technology:

Yes
If you would like a franking machine similar to the FP Mailing Qi 2000 then view our range of franking machines here.