Pitney Bowes DM55 Franking Machine – Guide By Mailcoms
Pitney Bowes DM55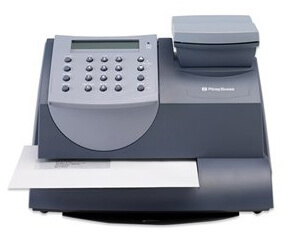 Low User (speed of up to 30 letters per minute)
The Pitney Bowes DM55 franking machine is an entry level franking machine and it is a low volume franker, capable of reaching speeds of up to 30 franks a minute. It is a upgrade machine to the Pitney Bowes DM50 franking machine as the DM55 includes some extra added features and benefits. The DM55, like the DM50, are both Smart Meter Enabled and Mailmark compliant, giving you all of the extra benefits of these features after a quick update.
The Pitney Bowes DM55 does come with more features, such as Manual Weight Entry, Text Entry, up to 10 departmental accounts and a date received time stamp. All of these features will aid your business slightly more than the DM50 franking machine. As well as this, the Pitney Bowes DM55 comes with a integrated weighing scale, which means that you can always apply the exact postage price on every mail item, eliminating the possibility of over paying for a mail item.
Get a Mailmark Franking Machine Quote for a similar machine here.
View our range of Pitney Bowes DM55 franking machine supplies here.
Get a Franking Machine Quote for a similar franking machine here.
Pitney Bowes DM55 Specifications
Speed: Up to 30 letters per minute
Scale: 2.5 KG weighing scale
Feeder: Manual Feeding
Max. envelope thickness: 8mm
Smart Meter: Yes
Mailmark: Yes
Connection Method: LAN Connection or Telephone
Job memories: None
Label dispenser: No
PIN Security: Yes
Text Entry: Yes
Date Received Time Stamp: Yes
Departmental Accounts: Up to 10
Envelope size: DL, C5 & C4
Dimensions: Length: 351mm, Depth: 264mm, Height: 231mm
Weight: 4 KG
Electrical: 220-240 VAC, 50/60Hz 0.25A
Pitney Bowes DM55 Running Costs
Ink: £44.95 for around 1,000 prints
Franking Labels: £16.95 for 1000
Envelopes: £29.95 for 250