Pitney Bowes DM400c Franking Machine Overview
The Pitney Bowes DM400c franking machine is a mid volume franking machine that is Mailmark ready for all businesses. This machine comes with top franking speeds that make this model perfect for businesses sending out up to 500 mail items per day. Frank mail cleanly and professionally with this model every time and see the benefits that occur.
Pitney Bowes DM400c Franking Machine Features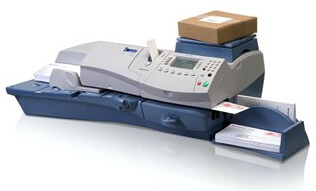 The Pitney Bowes DM400c franking machine brings with it many useful franking machine features that can save you time and money. These features range from the latest franking technologies to are brilliant advertising feature. View some of the DM400c's franking machine features in detail below.
Smart Meter Technology
One franking machine feature that the Pitney Bowes DM400c franking machine comes with is smart meter technology. This allows businesses to frank in smart blue ink and use all of Royal Mail's VAT services and products. Smart meter technology also uses data capture that notes every time a VAT liable service is used. This then allows you to regain any paid VAT back.
Mailmark Technology
As well as the latest smart meter technology, the DM400c model is also Mailmark ready. This means that businesses can frank a new 2D barcode on every mail item as well as benefiting from the lowest franking discounts. Mailmark can be very beneficial to use as it brings with it many useful benefits previously not gained. Find out about Mailmark here.
Feeding System
A fully automatic feeding system can also be used with the Pitney Bowes DM400c franking machine and this allows top franking speeds reaching 95 letters per minute to be reached. By franking at this rate, an average of 500 items per day can be franked. Use this feeder to frank onto any mail item that is 8mm thick or less. Larger items will require franking labels in order for users to benefit from all franking discounts.
Accounting Feature
Another franking machine feature that can be used with this franking machine is an accounting feature. You can use up to 300 departmental accounts, or as little as 25, and help ensure you keep on top of your postage expenditure. PIN code protect these accounts to ensure only authorised personnel can use the franking machine. This will ensure that you know who has been using this machine being very beneficial.
Advertisement Feature
A final feature that comes with the Pitney Bowes DM400c franking machine is an advertising feature. Use a variety of different adverts with this machine and frank them onto outgoing mail. Use this feature to your advantage and help expand your business name. Frank clean and clear adverts onto your mail and use this franking machine as a free marketing tool. This can help increase profits and make your business look far more professional.
Get some low cost Pitney Bowes DM400c franking machine supplies here and see how much you can save when buying from Mailcoms.
View our range of franking machines here and receive low cost franking machine quotes.