Pitney Bowes DM220i Franking Machine Information
The Mailmark ready and smart meter enabled Pitney Bowes DM220i franking machine comes with a range of features including all of the features found in the DM160i model and more. Processing speeds are faster, a larger integrated weighing scale is included as standard and more departmental accounts are available. These are just some of the extras that the DM220i possesses.
Pitney Bowes DM220i Franking Machine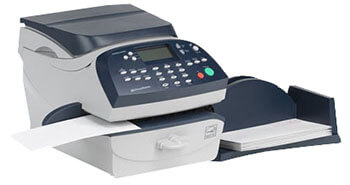 The DM220i digital franking machine can offer businesses an impressive range of features that can save you both time and money. A franking speed of 45 letters per minute can be reached and this is suited for almost any business sending out 200 items of mail per day. This speed is much faster than any human and every franked item will save you money over stamps.
Use many one touch buttons when franking to make the franking process easy for all. To ensure that you are in control of postage costs your business can use up to 100 departmental accounts. This is the ultimate way to ensure you are in control of postage expenses. Other features with this model includes: various job memories, various advertisements, smart meter technology and more.
View our range of Pitney Bowes DM220i franking machine supplies here.
Mailmark Compatibility
The DM220i model is Mailmark ready and gives you all of the extras and features that were previously not gained without Mailmark. Make even more savings with lower postage discounts, track your mail items and begin franking a Mailmark 2D barcode impression on outgoing mail items. Find out more about Mailmark here.
DM220i Specifications
View the key specifications of the Pitney Bowes DM220i franking machine below.
Speed:

45 Letters per Minute

Feeding System:

Pass Through

Weighing Scales:

5, 7, 12 or 35 Kg available

Connectivity:

LAN

Max. Envelope thickness:

9.5mm

Job Memories:

5

Advertisements:

Yes

Departmental Accounts:

100 available

PIN Security:

Yes

Differential Weighing:

Yes

Smart Meter Technology:

Yes

Mailmark Technology:

Yes
If you would like a franking machine similar to the Pitney Bowes DM220i then view our range of franking machines here.