Pitney Bowes DM175i Franking Machine – Guide By Mailcoms
Pitney Bowes DM175i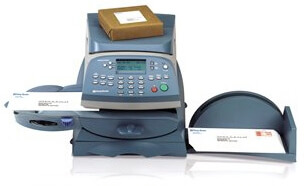 Low Volume Franking Machine (Speed of up to 40 franks per minute)
The Pitney Bowes DM175i franking machine is a low volume machine manufactured by Pitney Bowes. It can frank up to 40 items a minute, and based on our experience with a similar machine, the DM175i can frank up to 100 items a day. It is a slightly older franking machine but it is still perfect and suitable for any new and upcoming business looking to frank their mail.
The Pitney Bowes DM175i machine comes with an array of features, including 100 departmental accounts and a integrated 5 Kg weighing scale. You will be able to monitor you expenditure and never over pay for a mail item again with these great features. As well as this, the DM175i comes with the latest Smart Meter technology, allowing you to gain access to and use Royal Mail VAT services to your advantage.
Unfortunately, the Pitney Bowes DM175i franking machine is currently not set to become Mailmark compliant as announced by Pitney Bowes, and so you should not use this franking machine if you want to take full advantage of this new and alternative franking technology. Get a low cost Mailmark Franking Machine Quote for a similar franking machine here.
Get low cost Pitney Bowes DM175i Franking Machine Supplies here.
Get a low cost Franking Machine Quote for a similar machine here.
Pitney Bowes DM175i Specifications
Speed: 40 letter per minute
Feed Method: Semi-Automatic
Scale: 5KG scale only
Max. envelope thickness: 9.5mm
Envelope Flap Depth: 22mm – 76mm
Envelope Size: DL, C5 & C4
Connection Method: LAN or Telephone connection
Job Memories: Up to 5
Departmental Accounts: 100 accounts
Smart Meter Technology: Yes
Mailmark: No
PIN Security: Yes
Differential Weighing: Optional
Dimensions: Length: 345mm, Depth: 400mm, Height: 230mm
Dimensions: Weight: 6.8KG
Electrical: 100-240 V, 50/60 Hz, 3A
Noise: 55dB
Pitney Bowes DM175i Running Costs
Ink: £64.50 for 5,000 prints
Franking Labels: £16.95 for 1000
Envelopes: £29.95 for 250