Pitney Bowes DM160i Franking Machine Overview
The Pitney Bowes DM160i franking machine is a low volume model that is perfect for any business that sends up to, but not limited to, 200 items per day. This is based on our experience with a similar speed franking machine. This model is similar to the DM220i model except the DM160i is not as advanced.
Pitney Bowes DM160i Franking Machine Features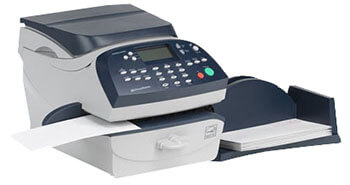 Like all franking machines, the Pitney Bowes DM160i franking machine comes with a wide range of franking machine features. These range from a useful accounting feature to an integrated weighing platform. Read about some of this machines great features in detail below.
Mailmark Technology
One feature that can be used in this low volume machine is the latest Mailmark technology. This technology was released during 2014 to aid both businesses and the Royal Mail. Businesses can gain access to the lowest postage tariffs on the market and use a new 2D barcode impression when franking. This new technology can be highly beneficial, especially for businesses sending out large mail loads. Find out more about Mailmark here.
Weighing Platforms
Users can accurately weigh all of their mail items by using a standard 2.5 Kg weighing scale. This will eliminate any possibility of over paying for a mail item, removing this risk. The weighing scale can be upgraded to a 7, 12 or 35 Kg scale if you wish.
Accounting Feature
An accounting feature can be used with the Pitney Bowes DM160i franking machine as well which will allow businesses to monitor and track all postage expenditure. Use 25 departmental accounts with this accounting feature and be in complete control of the franking machine. For safer security, the franking machine can be PIN code protected.
Feeding System
A final feature that is used in the Pitney Bowes DM160i franking machine is a pass through feeding system. This feeder can frank at a top speed of 40 letters per minute, and this is perfect for any machine franking up to 200 items of mail per day. This feeder can frank onto any item that is 9.5mm thick and thicker items can use franking labels. This enables all franking prices to be used.
Get some low cost Pitney Bowes DM160i franking machine supplies here and see how much you can save on your ink and labels.
View our range of franking machines here and receive low cost franking machine quotes for a similar machine to the Pitney Bowes DM160i.