Neopost IS440 Franking Machine Overview
The Neopost IS440 franking machine is a mid volume model manufactured and supplied by Neopost. When in complete operation, this machine can frank at speeds reaching 95 letters per minute making this suitable for businesses sending out up to 500 items per day. This is a recommendation based on our own experience, this is not a limit.
Neopost IS440 Franking Machine Features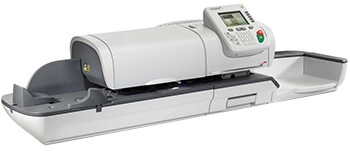 As a mid volume franking machine, it brings with it many features that can benefit businesses. These features vary from a fully automated feeding system to an integrated choice of weighing scales. Find out about the features that come with the Neopost IS440 franking machine below.
Feeding System
One franking machine feature that is present in the IS440 is a fully automatic feeding system. This system can process mail items up to 12mm thick and at a top speed of 95 letters per minute. Send out mid sized mail loads when franking at these speeds.
Advertising Feature
The Neopost IS440 franking machine also comes with an advertising feature that allows users to frank a promotional advert or message onto outgoing mail. Reach out to your customers and use this tool as free marketing. Benefit from using 8 different adverts and help expand your business name with this feature.
Integrated Weighing Scales
An integrated choice of weighing scales can also be used when franking mail with the Neopost IS440 franking machine. Choose from a 3, 5, 10 or 30 Kg scale and accurately weigh and apply correct postage all the time. Never again over pay for a mail item.
Smart Meter Technology
The latest smart meter technology can also be used meaning that smart blue ink can be used when franking. This will improve your franks readability being very beneficial. Also benefit from using all of Royal Mail VAT services & products and when a service is used you can reclaim your VAT.
Mailmark Technology
As well as smart meter technology, the Neopost IS440 franking machine is also Mailmark ready. This means that users will be able to benefit from using the lowest postal tariffs whilst franking a new 2D barcode on your mail. This barcode is the recognizable mark of Mailmark and this can aid all businesses. Find out more about Mailmark here.
View our range of franking machines here and receive a quote for a similar franking machine to the Neopost IS440.
View our range of Neopost IS440 franking machine supplies here and see how much you can save when buying from us.