Neopost IS-440 Postage Machine Guide
The Neopost IS-440 postage machine is both fast and reliable via the use of a fully automatic feeding system and label dispenser. When it comes to getting the job complete a business needs to rely on a machine that can add value to your mail and save you money. The IS-440 is just one model that can do this for you.
Neopost IS-440 Postage Machine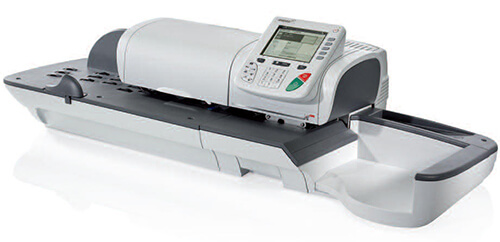 The latest and state of the art franking technology comes as standard with this mid volume postage machine. Both smart meter and Mailmark franking technologies can benefit and save any business. Mailmark is a new service offering lower price discounts and a new impression. Smart meter is an older but very beneficial service that gives you access to VAT services and products.
The Neopost IS-440 postage machine has a top franking speed of 95 letters per minute and at this speed a business sending up to 500 items everyday will be suited for this model. If you want to expand your business name the IS440 allows users to frank personalized messages or slogans onto outgoing mail items. Attract your customers before they open their mail and make an instant impact.
The IS-440 model ensures that you will never worry about miss paying for a mail item. By using it's integrated weighing scale users can accurately weigh and apply the correct postage on all out going mail. Choose from a range of scales ranging from 3 to 30 Kg. Other features include connection to a LAN, various job memories and various cost centres.
Neopost IS-440 Features
Find out what postage machine features are included with the Neopost IS-440 franking machine below.
Speed:

95 LPM

Feeding System:

Automatic

Weighing Scales:

3, 5, 10 or 30 Kg available

Connectivity:

LAN

Max. Envelope thickness:

12mm

Job Memories:

Yes, 9

Advertisements:

Yes, 8

Departmental Accounts:

Yes, 25 or 100

PIN Security:

Yes

Smart Meter Technology:

Yes

Mailmark Technology:

Yes

Differential Weighing:

Optional
Neopost IS-440 Dimensions
Find out the dimensions of the Neopost IS-440 postage machine below.
Length of IS-440:

104.3cm

Depth of IS-440:

37.5cm

Height of IS-440:

29.8cm
Find out more about the Neopost IS-440 franking machine here.
View our range of franking machines here and receive instant postage machine quotes for a similar machine to the Neopost IS-440.