Neopost IS-420 Mailmark Franking Machine
Setting up jobs is made easy with the IS-420 Mailmark franking machine due to easy navigation. Mail processing can occur much quickly and integrating the process with a weighing scale will ensure accurate payments. The latest generation of franking, meaning both smart meter and Mailmark can be used with this model.
Neopost IS-420 Mailmark Franking Machine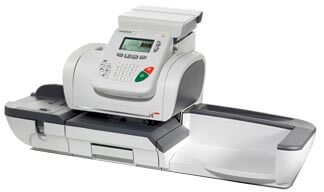 A semi-automatic feeding system is used with the Neopost IS-420 Mailmark franking machine and this allows a franking speed of 65 letters per minute to be reached. Based on our experience, a franking machine of this speed is perfectly designed for mail loads reaching 300 items per day. This is a low to mid volume machine.
Expanding your business name is much easier thanks to a useful advertising tool. Market your business on your mail via a personalized slogan. This can aid with expanding and marketing of the business. Up to 10 adverts can be stored for quick access, and setting up a job memory will speed up the entire process.
Click here to view a range of Neopost IS-420 franking machine supplies.
Mailmark Technology
The low to mid volume IS-420 franking machine comes with the latest Mailmark technology as standard, meaning that businesses can benefit from using lower franking prices and a new 2D barcode to track mail. This technology is relatively new and was released by Royal Mail in 2014. Find out more about Mailmark technology here.
Further Details for the Neopost IS-420
View the latest details and up to date features that the Neopost IS-420 Mailmark franking machine possesses below.
Franking Speed:

65 letters per minute

Envelope Feeding System:

Semi-Automatic

Scale Options:

3, 5, 10 or 30 Kg

Connectivity Options:

LAN, WiFi

Maximum Envelope Thickness:

12mm

Job Memories:

Yes, 9

Advertisements / Slogans:

Yes, 10

Departmental Accounts:

Yes, 25 or 100

PIN Security:

Yes

Smart Meter Technology:

Yes

Mailmark Technology:

Yes

Length Dimension:

748mm

Depth Dimension:

375mm

Height Dimension:

298mm
View our range of franking machines here and receive an instant franking machine quote for a similar machine to the Neopost IS-420.