Frama Matrix F42 Franking Machine Information
The Frama Matrix F42 franking machine comes with a new full colour navigation system that uses OneTouch technology and is easy to use for all members of staff. Additional information can be given to any user to help make the franking process fly by. Use this clear navigation system to clearly see your current postage levels and ink levels.
Frama Matrix F42 Franking Machine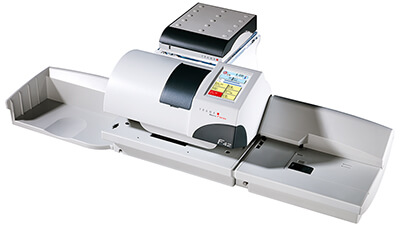 The Matrix F42 is a low to mid volume franking machine based on our own experience with a similar style franking machine. Frank at a speed reaching 65 letters per minute and send out up to 300 items per day with incredible ease. Connecting to a LAN line will enable this machine to use faster download speeds when updating postage rates and advertising stamps.
The Frama Matrix F42 franking machine also comes with a label dispenser which allows you to frank onto any item that is 10mm thick and more. An integrated weighing scale is also included with this model and this will eliminate the risk of miss paying for a mail item. Use a 2 or 5 Kg scale with this machine.
Mailmark Compatibility
The Frama Matrix F42 franking machine is Mailmark compliant and will give users access to a range of exclusive Mailmark features and benefits. This model, along with 5 other franking machines, was one of the first models to become Mailmark compliant. It was released for this new technology which will give businesses access to lower franking prices. Find our about Mailmark here.
Matrix F42 Specifications
View the key specifications of the Frama Matrix F42 Franking Machine franking machine below.
Speed:

65 Letters per Minute

Feeding System:

Semi Automatic

Weighing Scales:

2 or 5 Kg available

Connectivity:

LAN

Max. Envelope thickness:

10mm

One Touch Functions:

9

Advertisements:

8

Departmental Accounts:

250 available, 50 standard

PIN Security:

Yes

Smart Meter Technology:

Yes

Mailmark Technology:

Yes
If you would like a franking machine similar to the Frama Matrix F42 Franking Machine then view our range of franking machines here.