Neopost IS440 Franking Machine Information
The Neopost IS440 franking machine is a fast and reliable model that is capable of process ail at speeds reaching 95 letters per minute. This machine can be easily integrated into with a Neopost folding inserting machine and it supports Mailmark technology. See productivity levels rise and make huge postage savings with the IS440.
Neopost IS440 Franking Machine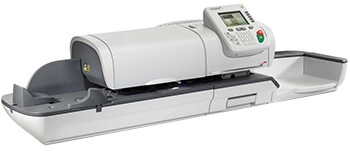 A franking machine that can frank up to 95 letters per minute is perfectly designed for any business that sends out up to 500 items per day based on our experience with a similar model. By using its integrated weighing scale the Neopost IS440 franking machine will help ensure that you never over pay for a mail item. Accurately pay for all outgoing mail items.
Ensure that you are in control of all postage expenses by using an integrated accounting feature. Control access with PIN code security on various amounts of departmental accounts. Monitor and track all expenses on up to 100 accounts. As well as this the IS440 is capable of using the latest smart meter technology, giving users exclusive access to all VAT services and products.
View our range of Neopost IS440 franking machine supplies here.
Mailmark Compatibility
The latest Mailmark franking technology comes as standard with the IS440 model. This means that businesses can start franking a new 2D barcode onto mail items whilst benefiting from using the lowest postage rates that are available. Mailmark is a new piece of technology and it can highly benefit users. Find our about Mailmark here.
IS440 Specifications
View the key specifications of the Neopost IS440 Franking Machine franking machine below.
Speed:

95 Letters per Minute

Feeding System:

Automatic

Weighing Scales:

3, 5, 10 or 30 Kg available

Connectivity:

LAN

Max. Envelope thickness:

12mm

Job Memories:

9

Advertisements:

8

Departmental Accounts:

100 available, 25 standard

PIN Security:

Yes

Smart Meter Technology:

Yes

Mailmark Technology:

Yes
If you would like a franking machine similar to the Neopost IS440 Franking Machine then view our range of franking machines here.