Neopost IS420 Franking Machine Information
The Neopost IS420 franking machine is a low to mid volume machine capable of franking as many as 300 mail items per day. This is based on our own experience with a similar franking machine with similar features. By using a semi-automatic feeding system a business will be able to frank mail at a top speed of 65 letters per minute on items 12mm thick or less.
Neopost IS420 Franking Machine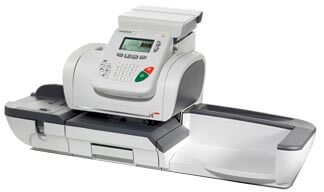 As a low to mid volume machine it comes with a range of franking machine features. The latest smart meter franking technology is integrated into this machine meaning all Royal Mail services can be used, including VAT liable services. An integrated choice of weighing scales are available with the IS420 meaning you can help ensure your business never again miss pays for a mail item. Choose from a 3, 5, 10 or 30 Kg platform.
You can advertise your business completely free of charge by franking a personalized message / slogan onto outgoing mail items. Use up to 8 different slogans and attract customers and potential customers. Also monitor and track all postage expenses with the Neopost IS420 franking machine by using various departmental accounts. This will help ensure you stay in complete control over your postage costs.
View our range of Neopost IS420 franking machine supplies here.
Mailmark Compatibility
Mailmark is a new franking service that can be used in a range of franking machines and the IS420 is one such model that is Mailmark ready. This means that all businesses franking with the IS420 will be able to benefit from franking a 2D barcode franking impression and using even lower franking prices. Mailmark is seen as the future of franking and so it may be worth your business using it to your advantage. Find out about Mailmark here.
IS420 Specifications
View the key specifications of the Neopost IS420 franking machine below.
Speed:

65 Letters per Minute

Feeding System:

Semi-Automatic

Weighing Scales:

3, 5, 10 or 30 Kg available

Connectivity:

LAN

Max. Envelope thickness:

12mm

Job Memories:

9

Advertisements:

8

Departmental Accounts:

25 or 100 available

PIN Security:

Yes

Smart Meter Technology:

Yes

Mailmark Technology:

Yes
If you would like a franking machine similar to the Neopost IS420 then view our range of franking machines here.