Frama Matrix F82 Smart Franking Machine
The Frama Matrix F82 smart franking machine was one of the first franking machines to come with both smart meter and Mailmark franking technologies. Both of these technologies come with loads of benefits and features that will make franking mail easier and better, including the usage of even lower franking prices and a new 2D barcode.
Frama Matrix F82 Smart Franking Machine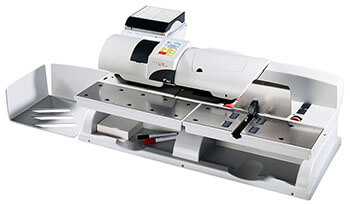 This model is built for larger mail loads, and a heavy duty feed table comes with this machine to aid this. This feed table operates with its long lasting rollers for large batch processing of mail items. As well as this, the Matrix F82 smart franking machine franks at a top speed of 140 letters per minute, allowing more mail to be franked each day.
An integrated weighing scale comes as standard to help eliminate the risk of miss paying for a mail item and up to 20 advertisements can be used to expand your business name. Use this advantageous features to help gain more customers and eliminate the risk of Royal Mail surcharges.
View our wide range of Frama Matrix F82 franking machine supplies here.
Smart Meter Technology
Smart meter technology allows businesses to access and use all Royal Mail VAT services on the franking machine. Not only this, but franking machines should now be using smart blue franking ink. The Matrix F82 model comes with this feature and its added benefits. Find out more about smart franking machines here.
Frama Matrix F82 Specifications
View the latest and most up to date specifications for the Frama Matrix F82 smart franking machine here.
Speed:

140 franks per minute

Envelope Feeding System:

Automatic

Weighing Scales:

5 or 30 Kg

Connectivity:

LAN

Max. Envelope Thickness:

10mm

OneTouch Functions:

36

Job Memories:

Yes

Advertisements:

Yes, 20

Departmental Accounts:

Yes, 150 or 250

PIN Security:

Yes

Smart Meter Technology:

Yes

Mailmark Technology:

Yes

Differential Weighing:

Optional

Length:

1122mm

Depth:

626mm

Height:

222mm
View our range of franking machines here and receive instant quotes for a similar model to the Frama Matrix F82.