Frama Matrix F62 Smart Franking Machine
The Frama Matrix F62 smart franking machine is capable of processing all letter formats up to B4 in portrait mode. Its feeder is fully automatic and can process items at an incredible speed of 95 letters per minute. It is adjusted to frank on letter items up to 10mm thick and its feeder provides ease of use for the operator.
Frama Matrix F62 Smart Franking Machine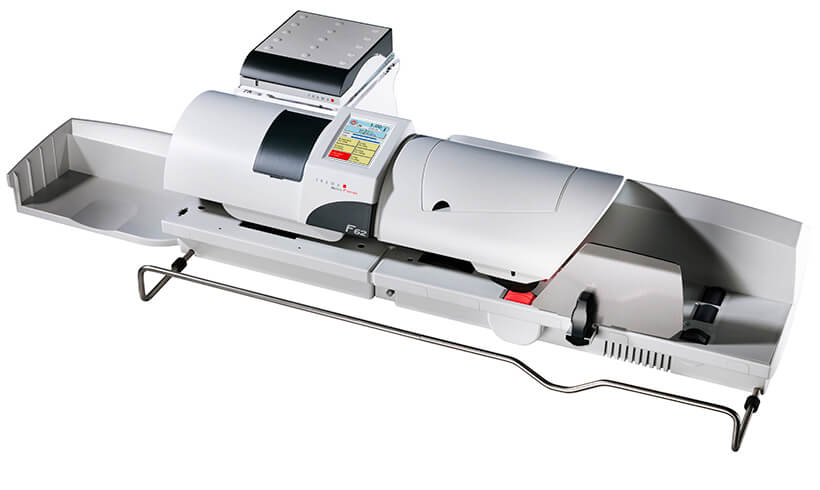 This franking machine is designed for mid volumes of mail based on our experience with a similar franking machine. The Matrix F62 smart franking machine fits the requirements of a busy mailroom as it comes with ease of use functionality, high quality ink jet printing and a automatic label dispenser.
Use an integrated weighing scale to eliminate any risk of miss paying for mail and frank slogans onto your mail to help expand your business name. Mailmark technology is also integrated into this machine, and this will allow businesses to benefit from lower franking prices, connecting to a LAN and tracking of mail items.
View our wide range of Frama Matrix F62 franking machine supplies here.
Smart Meter Technology
As well as being Mailmark compliant, the Frama Matrix F62 model is also smart meter enabled. This means that users can benefit more from franking by accessing all Royal Mail VAT services and products. This will allow VAT to be reclaimed. Another feature of smart technology is smart blue franking ink, and this will improve the readability of your franking impression. Find out more about smart franking machines here.
Frama Matrix F62 Specifications
View the latest and most up to date specifications for the Frama Matrix F62 smart franking machine here.
Speed:

95 franks per minute

Envelope Feeding System:

Automatic

Weighing Scales:

2, 5 or 30 Kg

Connectivity:

LAN

Max. Envelope Thickness:

10mm

OneTouch Functions:

36

Job Memories:

Yes

Advertisements:

Yes, 12

Departmental Accounts:

Yes, 100 or 250

PIN Security:

Yes

Smart Meter Technology:

Yes

Mailmark Technology:

Yes

Length:

1085mm

Depth:

621mm

Height:

219mm
View our range of franking machines here and receive instant quotes for a similar model to the Frama Matrix F62.