Frama Matrix F42 Smart Franking Machine
Connect to a secure LAN, frank at an incredible speed of 65 letters per minute and use an integrated 2 Kg weighing scale to your advantage. These are just some of the many franking machine features and benefits that can be gained with the Frama Matrix F42 smart franking machine.
Frama Matrix F42 Smart Franking Machine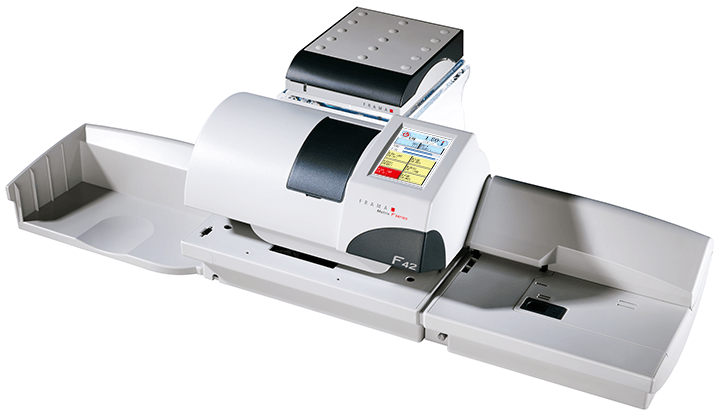 A label dispenser is integrated into the Frama Matrix F42 smart franking machine to help users frank onto any mail item that is 10mm thick or more. Frank clear impressions and a desired advertisement onto a franking label and apply. Benefit from using all franking prices and save money on all items franked.
An integrated colour touch screen comes as standard with the Matrix F42 model and this comes with 36 one touch functions. Use these functions to frank mail with ease and set up any job within seconds. As well as this, the latest Mailmark technology will allow businesses to benefit even further from franking as lower prices are available.
View our wide range of Frama Matrix F42 franking machine supplies here.
Smart Meter Technology
Like all modern franking machines, the Frama Matrix F42 is smart meter ready. This means that businesses can benefit from using smart meter technology when franking. The main benefit of using this service is that users can access Royal Mail VAT services and any VAT applied can then later be reclaimed. Find out more about smart franking machines here.
Frama Matrix F42 Specifications
View the latest and most up to date specifications for the Frama Matrix F42 smart franking machine here.
Speed:

65 franks per minute

Envelope Feeding System:

Semi-Automatic

Weighing Scales:

2, 5 or 30 Kg

Connectivity:

LAN

Max. Envelope Thickness:

10mm

OneTouch Functions:

36

Job Memories:

Yes

Advertisements:

Yes

Departmental Accounts:

Yes, 50 or 250

PIN Security:

Yes

Smart Meter Technology:

Yes

Mailmark Technology:

Yes

Differential Weighing:

Optional

Length:

830mm

Depth:

380mm

Height:

220mm
View our range of franking machines here and receive instant quotes for a similar model to the Frama Matrix F42.