Frama Matrix F32 Smart Franking Machine
Setting up a job and accurately weighing all your mail items could not be any simpler with the Matrix F32 smart franking machine. Up to 30 one touch functions are readily available to quickly access job memories and set up your mailing jobs. An integrated weighing scale is also available to help ensure you eliminate the risk of miss paying for mail.
Frama Matrix F32 Smart Franking Machine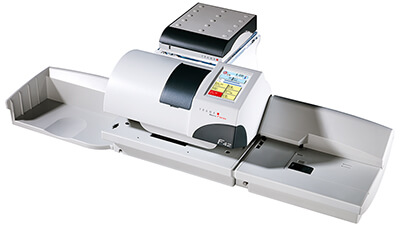 The benefit of Mailmark franking is available in the Frama Matrix F32 smart franking machine and this will offer savings on postage as well as easy product selection. 600 dpi printing will ensure crisp impressions every time for advertising stamps, adding that final touch to your envelopes.
Ensure all daily volumes of mail are sent out with the Matrix F32 franking machine. This machine can frank at a top speed of 50 letters per minute on envelopes up to 10mm thick. Based on our years of experience, a machine of this ability will be suitable for up to 200 mail items per day.
View our wide range of Frama Matrix F32 franking machine supplies here.
Smart Meter Technology
The latest smart meter technology will come as standard in the F32 model and this means users can use Royal Mail VAT services for reclaiming. As well as this, businesses can ensure their mail is delivered quickly via the use of smart blue franking ink which makes the franking impressions easier to read. Find out more about smart franking machines here.
Frama Matrix F32 Specifications
View the latest and most up to date specifications for the Frama Matrix F32 smart franking machine here.
Speed:

50 franks per minute

Envelope Feeding System:

Semi Automatic

Weighing Scales:

2, 5 or 30 Kg

Connectivity:

LAN

Max. Envelope Thickness:

10mm

OneTouch Functions:

30

Job Memories:

Yes

Advertisements:

Yes, 12

Departmental Accounts:

Yes, 25 or 200

PIN Security:

Yes

Smart Meter Technology:

Yes

Mailmark Technology:

Yes

Length:

830mm

Depth:

380mm

Height:

220mm
View our range of franking machines here and receive instant quotes for a similar model to the Frama Matrix F32.