Frama Matrix F32 Franking Machine Overview
The Frama Matrix F32 franking machine is one of Frama's low to mid volume franking machines that comes with the latest Mailmark technology. It was released during 2014 by Frama, purposely for Mailmark 2014, giving customers a wider range of franking machines to choose from. It is capable of franking up to 300 items of mail per day. Based on our own experience with a similar model this is the volume that should be franked daily.
Frama Matrix F32 Franking Machine Features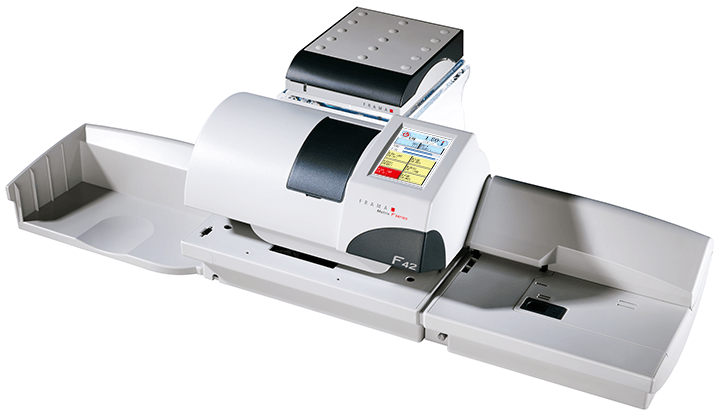 As a low to mid volume franking machine the Frama Matrix F32 franking machine comes with a wide range of features that can benefit businesses. These features range from the latest franking technologies to a standard integrated weighing scale. View some of the Matirx F32's franking machine features in more detail below.
Mailmark Technology
The latest Mailmark technology can be used with the F32 model as standard. Similar to the other Matrix F franking machines supplied by Frama, the Matrix F32 can give businesses exclusive access to Mailmark. This means a new 2D barcode will be franked onto outgoing mail and the lowest franking prices will be used. Find out about Mailmark here.
Smart Meter Technology
As well as Mailmark, the latest smart meter technology can also be used in the Frama Matrix F32 franking machine. Use this technology to use all of Royal Mail's services that are liable to VAT. Frank mail in the latest smart blue ink and reclaiming of VAT are two benefits of using this great service.
Accounting Feature
Another franking machine feature that can be used in the Frama Matrix F32 franking machine is an accounting feature. This allows users to monitor and track all postage expenditure that occurs on this machine. Ensure you are in complete control of your postage. Use up to 100 separate departmental accounts or downgrade this to only 25 accounts. These accounts can be protected via PIN code.
Advertising Feature
An advertising feature can also be used in this franking machine and this allows personalized messages and slogans to be franked onto all outgoing mail. Help expand your company name and improve your professional image with this feature. Access up to 8 different adverts on the F32 machine.
Integrated Choice of Weighing Scales
One final franking machine feature that the Frama Matrix F32 franking machine comes with is an optional choice of integrated weighing scales. Ensure that you accurately pay the correct postage every time by weighing all outgoing mail. Use either a 2, 5 or 30 Kg scale and eliminate the possibility of over paying for your mail.
View our range of franking machines here and get a franking machine quote for a similar machine to the Frama Matrix F32.