Frama Matrix F12 Mailmark Franking Machine
Built for smaller mail loads of 50 items per day, the Matrix F12 Mailmark franking machine is an entry level model available from Frama. It uses manual feeding to process mail items up to 10mm thick and any larger mail items can be franked via franking labels. This system allows almost all staff members to use this system with ease.
Frama Matrix F12 Mailmark Franking Machine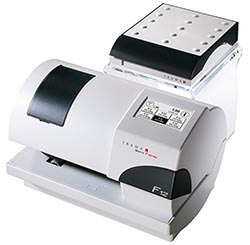 An integrated weighing scale will help eliminate any problems with Royal Mail surcharges as accurate pricing of mail can always occur. Ensure every mail item is correctly franked by suing a 2 or 5 Kg postage scale. This weighing scale is also easily detachable from the back of the franking machine.
The Frama Matrix F12 Mailmark franking machine also allows users to connect to a secure LAN connection. This will help users receive faster download speeds and easier re-crediting of the machine. As well as this up to 8 advertisements can be stored on the machine to help expand your business name.
Click here to view a range of Frama Matrix F12 franking machine supplies.
Mailmark Technology
The entry level Matrix F12 was one of the first franking machines to become Mailmark compliant and it can therefore give users access to a range of extras. Mailmark is a new piece of technology released during 2014 and it is now widely used. This machine is one of the many models that can give businesses access to lower prices and a new 2D barcode impression. Find out more about Mailmark technology here.
Further Details for the Frama Matrix F12
View the latest details and up to date features that the Frama Matrix F12 Mailmark franking machine possesses below.
Franking Speed:

50 letters per day

Envelope Feeding System:

Manual

Scale Options:

2 or 5 Kg

Connectivity Options:

LAN

Maximum Envelope Thickness:

10mm

One Touch Functions:

Yes, 18

Job Memories:

Yes

Advertisements / Slogans:

Yes, 8

Departmental Accounts:

Yes, 9 or 25

PIN Security:

Yes

Smart Meter Technology:

Yes

Mailmark Technology:

Yes

Length Dimension:

570mm

Depth Dimension:

380mm

Height Dimension:

210mm
View our range of franking machines here and receive an instant franking machine quote for a similar machine to the Frama Matrix F12.