FP Mailing Postbase Qi3 Franking Machine Overview
The FP Mailing Postbase Qi3 franking machine is a low volume model capable of franking at speeds perfect for smaller sized businesses and new users. Send out low volumes of mail per day and it is recommended for users to frank up to 50 items of mail per day. This is however only a limit as speeds reaching 1800 letters per hour can be reached when in full operation.
FP Mailing Postbase Qi3 Franking Machine Features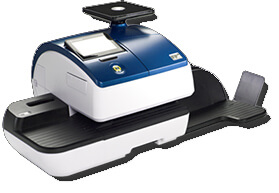 As this is a lower volume franking machine is does not come with as many features as larger models. However the FP Mailing Postbase Qi3 franking machine does come with many great features. These features vary from the latest technology to an integrated choice of weighing scales. View some of this machines main franking machine features in detail below.
Mailmark Technology
One feature that comes as standard with the FP Mailing Qi3 franking machine is the latest Mailmark technology. This machine, along with various other models, is Mailmark compliant and capable of using the lowest franking discounts available. Benefit from franking a new 2D barcode onto your mail by tracking your mail and always using a LAN connection. Find out more about Mailmark here.
Colour Touchscreen
Another key feature included with the Postbase Qi3 is a 4.3″ full colour touchscreen. This touchscreen uses one touch functions and can be used with incredible ease. Adjust this screen so that the angle is just right for you. Franking mail could not be easier, enabling every member of staff to use this machine.
Integrated Weighing Scales
Never again over or under pay for a mail item with the Postbase Qi3. By using an integrated weighing scale you will accurately apply correct postage every time eliminating any miss payment of mail. Choose from a range of integrated or external weighing scales ranging from a 3, 7 and 30 Kg scales.
Feeding System
One final feature that the FP Mailing Postbase Qi3 franking machine possesses is a pass through feeding system. Simply frank your item and it will be ejected to the side of the franking machine. By using this feeder, fast franking speeds reaching 30 letters per minute can be reached. Items reaching up to 10mm can be franked with tremendous ease. Larger items will require franking labels.
View some FP Mailing Postbase Qi3 franking machine supplies here and see how much you can save.
View our range of franking machines here and receive a quote for a similar franking machine to the Postbase Qi3.