FP Mailing Centormail Mailmark Franking Machine
A mixed mail vertical feeding system is the stand out and unique feature that the FP Mailing Centormail Mailmark franking machine possesses. This feeder can process any mail item up to 20mm thick and at a top franking speed of 150 franks per minute. Any larger mail item can be franked via the use of franking labels.
FP Mailing Centormail Mailmark Franking Machine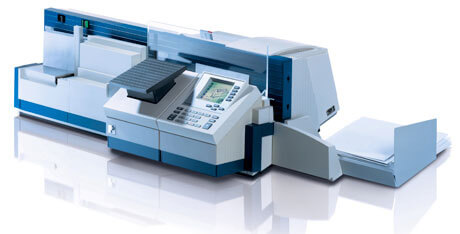 Inkjet printing will help ensure accurate and clear franking impressions are produced on every mail item. This will help improve the professional image of your company and expand your business name. Use a unique advertising feature to enhance your image further and produce a company slogan on outgoing mail pieces.
The Centormail Mailmark franking machine also comes with quiet operation and an easy to use touch screen. All staff members will be able to use the franking machine and clearly laid out graphics will enable occasional users to benefit. Smart meter, departmental accounts and job memories are also integrated to benefit users even further.
Click here to view a range of FP Mailing Centormail franking machine supplies.
Mailmark Technology
The Centormail franking machine also comes Mailmark ready, meaning that businesses will be able to benefit from a range of extras and features. Mailmark is a new piece of technology from Royal Mail and enables businesses to use lower franking prices and a new 2D barcode franking impression. Find out more about Mailmark technology here.
Further Details for the FP Mailing Centormail
View the latest details and up to date features that the FP Mailing Centormail Mailmark franking machine possesses below.
Franking Speed:

150 letters per minute

Envelope Feeding System:

Automatic

Scale Options:

5 Kg

Connectivity Options:

LAN

Maximum Envelope Thickness:

20mm

Job Memories:

Yes, 20

Advertisements / Slogans:

Yes, 15

Departmental Accounts:

Yes, 300

PIN Security:

Yes

Colour Touch Screen:

Yes

Smart Meter Technology:

Yes

Mailmark Technology:

Yes

Length Dimension:

1165mm

Depth Dimension:

540mm

Height Dimension:

340mm
View our range of franking machines here and receive an instant franking machine quote for a similar machine to the FP Mailing Centormail.