Pitney Bowes DM60 Franking Machine Information
The Pitney Bowes DM60 franking machine is a slightly upgraded franking machine to that of the DM50. The DM60 comes with some extra features that the DM50 does not posses such as Mailmark and connectivity to WiFi. This new entry level franking machine comes with many franking machine features that can aid all businesses that only send out 30 items per day.
Pitney Bowes DM60 Franking Machine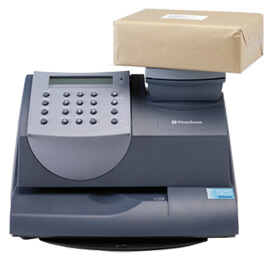 Use a manual feeding system when franking mail items and ensure mail loads reaching 30 letters per day can be sent. To eliminate the risk of over paying for mail items the Pitney Bowes DM60 comes with an integrated 2.5 Kg weighing scale. Use this scale to accurately weigh all mail items every time.
As a small business you will want to promote yourself at every possibility. With the DM60 model you can frank a company logo or advertising message on your mail absolutely free. Up to 5 advertisements are available for use. Also reclaim your VAT with this smart meter enabled model which is essential for companies using Royal Mail VAT services.
Mailmark Compatibility
Unlike the DM50 model, the Pitney Bowes DM60 is Mailmark ready. Access and use all services associated with Mailmark and gain access to a range of benefits and extras that a non-Mailmark franking machine does not possess. Frank a 2D Mailmark barcode, use lower franking prices and tracking of mail are just some of its features. Find out about Mailmark here.
DM60 Specifications
View the key specifications of the Pitney Bowes DM60 franking machine below.
Speed:

30 Letters per Day

Feeding System:

Manual

Weighing Scales:

2.5 Kg available

Connectivity:

LAN, WiFi or PC Meter Connect

Max. Envelope thickness:

8mm

Job Memories:

None

Advertisements:

5

Departmental Accounts:

Yes

PIN Security:

Yes

Smart Meter Technology:

Yes

Mailmark Technology:

Yes
If you would like a franking machine similar to the Pitney Bowes DM60 then view our range of franking machines here.