Pitney Bowes DM400c Franking Machine Information
The Pitney Bowes DM400c franking machine is one mid volume model that is manufactured by Pitney Bowes. As a mid volume franking machine it is most suited for any company sending out 500 mail items on a daily basis. It possesses a range of franking machine features that can benefit the franking process immensely.
Pitney Bowes DM400c Franking Machine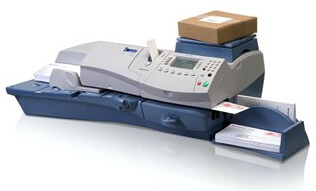 To frank mail a fully automatic feeder is available, allowing processing speeds of 95 letters per minute to be reached. Frank onto any item that is 8mm thick and use the latest smart blue franking ink to produce clean and clear franking impressions. Accurately weigh and apply correct postage to all outgoing mail items by using an integrated weighing scale. Ensure you never miss pay for a mail item again with the DM400c franking machine.
Use this equipment as a free marketing tool and frank personalized adverts onto all outgoing mail. Various slogans / adverts can be used to help expand your business name and increase brand awareness. Also ensure that you use a secure LAN connection with this model and receive faster download speeds and easier re-crediting.
Mailmark Compatibility
The Pitney Bowes DM400c franking machine is one of the most recent models to become Mailmark compliant. This means that the lowest priced franking prices and a new 2D barcode franking impression can be used when franking mail. Many benefits can be gained by using Mailmark including tracking of mail. Find out more about Mailmark here.
DM400c Specifications
View the key specifications of the Pitney Bowes DM400c franking machine below.
Speed:

95 Letters per Minute

Feeding System:

Automatic

Weighing Scales:

2.5, 7, 12 or 35 Kg

Connectivity:

LAN

Max. Envelope thickness:

8mm

Job Memories:

5

Departmental Accounts:

25, 100 or 300 available

Differential Weighing:

Optional

PIN Security:

Yes

Smart Meter Technology:

Yes

Mailmark Technology:

Yes
If you would like a franking machine similar to the Pitney Bowes DM400c then view our range of franking machines here.