Reasons To Choose A Mailmark Franking Machine
The latest Mailmark franking technology has had millions invested into it by the Royal Mail. Working with their many partners, the Royal Mail released Mailmark during 2014 and the mailing room industry can now be brought the next generation of franking. Read below to find out what Mailmark provides, how Mailmark operates and what benefits are available.
What Mailmark Provides
The introduction of Mailmark means the traditional franking mark is replaced by a 2D barcode (as seen below), providing more information to the Royal Mail and improving your business image.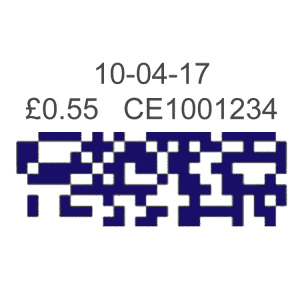 How Mailmark Operates
When your mail is franked by a franking machine, Mailmark will be added. The mail details are then added to an electronic list of your consignments, of which the Royal Mail gets sent a copy. As your mail is being processed, Royal Mail will read the barcode and generate reports based on what is read. This data can be checked online to see exactly what is happening with your mail.
The Benefits
– Lower Franking Rates – With Mailmark, businesses will have quicker and easier access to the lower postage rates. Mailmark is cheaper to use than both stamps and standard franking meaning more savings can be made per franking impression.
– Improved Efficiency – Calculate postage correctly every time, much easier and quicker. Help streamline your businesses operations and improve cash flow.
– Up To Date – The Royal Mail postage rates can be updated without you even doing anything as automatic rate updates will occur.
– Promote The Business – As with any franking machine you can promote the business for free. But with a Mailmark franking machine businesses can improve the professional image that the mail item portrays. This will look better on you as a business and potentially improve revenue further.
– Manage Postage Online – When franking mail, you can see all stats online. This means that you can manage postage online and be on top of your funds and expenditure better. Analyse your data and order consumables easier and faster.
– Secure – A Mailmark franking machine can be locked via PIN protection, meaning that you can be sure all funds are kept save and secure, 24/7.
– Maximum Return – Mailmark pre pay reply will help improve customer responses and potentially your revenue as this service encourages customer to respond as money and time can be saved by both recipient and sender.
With all these reasons, why wouldn't want to invest in a Mailmark franking machine and start benefiting? If you are interested in getting a Mailmark franking machine today then please view our franking machine page here or call us today on 01543 572 776. We are a Royal Mail Authorsied Independent Inspector & Maintainer of Franking Machines and we can supply you our very own range of models.