QI 2000 Postal Franking Machine
The FP Mailing QI 2000 postal franking machine is built for high level processing which will provide businesses with high level savings. Incredible franking speeds allows even more mail to be franked on a daily basis and based on our experience with similar machines businesses should be franking well over 1000 items per day.
QI 2000 Postal Franking Machine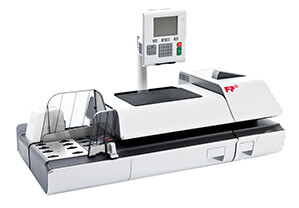 As this machine is a high volume franking machine it possesses a wide range of incredible features that will truly allow businesses to benefit from franking. One such feature that the QI 2000 postal franking machine uses is an automatic feeder which can process mail items as thick as 20mm thick at a speed of 260 letters per minute.
If you wish to accurately weigh all your mail every time then a integrated weighing scale is available. This will weigh all mail and process mail at a slightly slower speed of 140 letters per minute. As well as this the latest smart meter technology and Mailmark technology can be used, allowing more benefits to be achieved.
Even though it is a high volume franking machine it is still really easy to use and set up a job. A touch screen is readily available and from here anyone can frank. Use on screen instructions and one touch buttons to frank mail within minutes. Also access a suite of features from here including adverts and job memories.
QI 2000 Key Details
View the key details and features that the QI 2000 postal franking machine possesses here.
Speed:

260 LPM

Weighing Speed:

140 LPM

Feeding System:

Automatic

Weighing Platforms:

Yes, 3, 5, 10 or 30 Kg Available

Connectivity:

LAN

Maximum Envelope Thickness:

Up to 20mm

Job Memories:

Yes

Advertisements / Slogans:

Yes, 9 Available

Departmental Accounts:

Yes

PIN Security:

Yes

Colour Touch Screen:

Yes

Smart Meter Technology:

Yes

Mailmark Technology:

Yes

Dynamic Scale:

Optional

Barcode Scanner:

Optional

Length of Machine:

1500mm

Depth of Machine:

640mm

Height of Machine:

360mm
View our range of franking machines here and receive an instant franking machine quote for a similar machine to the FP Mailing QI 2000.