Pitney Bowes DM60 Postage Franking Machine
Pitney Bowes, the largest manufacturer of franking machines worldwide, can offer you a range of exclusive franking machines. One such model that is on offer is the Pitney Bowes DM60 postage franking machine which is their entry level franking machine. This model is ideal for volumes of mail reaching 30 letters per day, or 100 per month.
Pitney Bowes DM60 Postage Franking Machine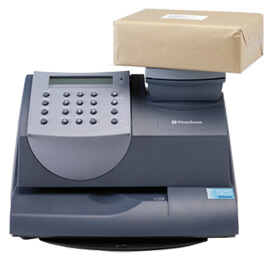 Franking speeds of 18 letters per minute can be reached with the DM60 postage franking machine when in full operation and this is made possible with manual feeding. Items as thick as 9.5mm can be franked, and to give users benefit to all franking prices franking labels are available.
An integrated 2.5 Kg weighing scale can be used to accurately weigh and price up all your mailings – from postcards to packages. Get the right postage every time. Also print accurate postage for all classes and types of mail, directly onto your envelopes or labels. Postage can be easily refilled within seconds thanks to LAN connectivity.
Save even more money when franking mail with the DM60 postage franking machine as it comes with Mailmark as standard. This new piece of technology will give users access to even lower franking prices as well as a new 2D barcode franking impression. Other features include smart meter, advertisements and job memories.
Click here to view a range of DM60 franking machine supplies.
Further Information
View even more information about the Pitney Bowes DM60 Postage Franking Machine below.
Top Franking Speed:

18 letters per minute

Feeder Used:

Manual

Weighing Scales:

Yes, 2.5 Kg

Connection Type(s):

LAN or WiFi

Max. Envelope Thickness:

9.5mm

Job Imprint Memories:

Yes

Advertisements:

Yes, 5

Departmental Accounts:

Yes, 10

PIN Security:

Yes

Smart Meter Enabled:

Yes

Mailmark Compliant:

Yes

Dimensions:

L: 351mm, D: 264mm, H: 231mm
View our latest range of franking machines here and receive instant franking machine quotes for a similar model to the Pitney Bowes DM60 Postage Franking Machine.