Pitney Bowes DM60 Franking System
The DM60 is a very basic franking machine that comes with limited franking machine features. It is an entry level franking machine that is perfect for any small and upcoming business or businesses that send up to 50 items per day (on average). The DM60 franking system is manufactured by Pitney Bowes and it comes with some features and benefits. Find out more about the DM60 franking machine below.
About the DM60 Franking System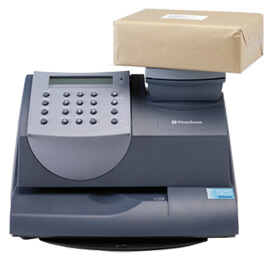 If you wish to start benefiting from franking mail or wish to upgrade to a Mailmark compliant franking machine, then the Pitney Bowes DM60 franking system may be just for you. The DM60 is currently available on a 30 day trial from Pitney Bowes, it comes with the latest franking technologies and an integrated scale comes as standard.
A range of classes and services can be used with the DM60 franking system allowing more money to be saved per franked item. Never miss pay for a mail item by accurately weighing and applying the correct price. Mailmark, smart meter, first class and second class are just some of the services and classes available.
A company logo can be franked onto your outgoing mail pieces and this will help expand your business name further. Store adverts or logos on the machine and apply to your mail. As well as this job memories can be stored for any mailing that is completed daily.
Click here to view our range of Pitney Bowes DM60 franking machine supplies.
Further DM60 Details & Specifications
View more Pitney Bowes DM60 details and Pitney Bowes DM60 specifications below.
Franking Speed:

18 letters per minute

Feeder:

Manual

Maximum Thickness:

9.5mm

Weighing Platform(s):

Yes, 2.5 Kg Option

Job Memories:

Yes

Advertisements:

Up to 5 are available

Departmental Accounts:

Up to 10 are available

Smart Meter Technology:

Yes

Mailmark Technology:

Yes

PIN Security:

Yes

Length:

35.1cm

Depth:

26.4cm

Height:

23.1cm
Find out more about the Pitney Bowes DM60 franking machine here.
Are you interested in the Pitney Bowes DM60 franking system? View our range of franking machines here and receive a franking machine quote for a similar model.