Pitney Bowes DM220i Postage Franking Machine
Pitney Bowes are one of the leading franking machine manufacturers and suppliers worldwide and they can supply a range of different models. One such machine that is available is their DM220i postage franking machine which is a low volume franking machine with a top franking speed of 45 letters per minute. It is designed for mail volumes of 200 letters per day.
Pitney Bowes DM220i Postage Franking Machine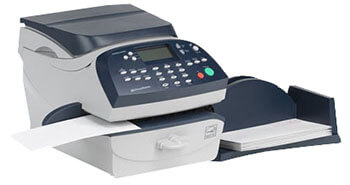 As a low volume model, the Pitney Bowes DM220i postage franking machine comes with limited features, but the features it does possess can save any business time and money. Each franking impression costs far less than a stamp and an integrated weighing scale will ensure accurate postage is always applied.
Save more money than ever with the latest Mailmark technology and access all Royal Mail services with the latest smart meter technology, including VAT applicable services. Both of these franking technologies can be used with the DM220i postage franking machine, offering more franking benefits to its user.
Manage your postage expenditure better with the DM220i as it can take advantage of 100 departmental accounts. This will allow your business to understand who is franking what. As well as this a range of features can be accessed via its display screen, including job memories, advertisements and the latest postage rates.
Click here to view a range of DM220i franking machine supplies.
Further Information
View even more information about the Pitney Bowes DM220i Postage Franking Machine below.
Top Franking Speed:

45 letters per minute

Feeder Used:

Pass Through

Weighing Scales:

Yes, 5 Kg, 7 Kg, 12 Kg & 35 Kg

Connection Type(s):

LAN

Max. Envelope Thickness:

9.5mm

Job Imprint Memories:

Yes, 5

Advertisements:

Yes, 20

Departmental Accounts:

Yes

PIN Security:

Yes

Smart Meter Enabled:

Yes

Mailmark Compliant:

Yes

Differential Weighing:

Yes

Dimensions:

L: 345mm, D: 400mm, H: 230mm
View our latest range of franking machines here and receive instant franking machine quotes for a similar model to the Pitney Bowes DM220i Postage Franking Machine.