Pitney Bowes DM110i Postage Machine Guide
If your business has outgrown its current postage machine then it is inevitable that you may be missing out on significant mail savings. The Pitney Bowes DM110i postage machine is on model will allow you to save both time and money. Help increase your brand awareness via the use of advertisements and use the DM110i to send up to 75 items per day.
Pitney Bowes DM110i Postage Machine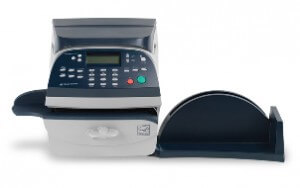 The Pitney Bowes DM110i postage machine comes with up to 5 job memories for commonly used jobs and it can use as many as 10 departmental accounts. All of these features and more can be accessed via a clear to see screen and one touch buttons for easy franking to occur. Processing mail could not be any easier for your business and staff members.
This Pitney Bowes model comes Mailmark ready and is perfectly designed for mail loads of smaller sizes. Process mail items up to 9.5mm thick via its pass through feeding system and at speeds reaching 25 letters per minute. If you need to frank larger mail items then compatible franking labels are available. This enables users to benefits from all franking prices.
An integrated weighing scale can be used for accurate payment of postage. Eliminate any risk of miss paying for an item via the use of a 5 Kg scale. Also take advantage of the latest smart meter technology and gain access to all VAT services. This will help you reclaim paid VAT whist franking in smart blue franking ink.
Pitney Bowes DM110i Features
Find out what postage machine features are included with the Pitney Bowes DM110i franking machine below.
Speed:

25 LPM

Daily Volume:

Between 20 & 75 LPD

Feeding System:

Pass Through

Weighing Scales:

2.5, 7, 12 or 35 Kg available

Connectivity:

LAN

Max. Envelope thickness:

9.5mm

Job Memories:

Yes, 5

Advertisements:

Yes

Departmental Accounts:

Yes, 10

PIN Security:

Yes

Smart Meter Technology:

Yes

Mailmark Technology:

Yes
Pitney Bowes DM110i Dimensions
Find out the dimensions of the Pitney Bowes DM110i postage machine below.
Length of DM110i:

34.5cm

Depth of DM110i:

40cm

Height of DM110i:

23cm

Weight of DM110i:

6.8 Kg
Find out more about the Pitney Bowes DM110i franking machine here.
View our range of franking machines here and receive instant postage machine quotes for a similar machine to the Pitney Bowes DM110i.