Pitney Bowes DI950 Folding Inserting Machine – Guide By Mailcoms
Pitney Bowes DI950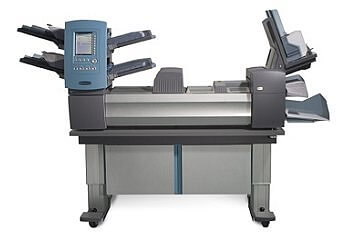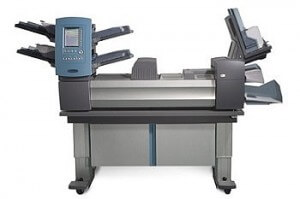 High Volume Folding Inserting Machine (speed of up to 5,400 letters per hour)
The Pitney Bowes DI950 Folding Inserting Machine is a highly productive machine, capable of folding and inserting the most complex of mailings to help reach out to more customers and help expand your business. It is one the highest volume machines available from Pitney Bowes, and with tremendous folding speeds of 5,400 letters an hour as well as ensuring your mail is out on time whilst looking great, this is no surprise.
The Pitney Bowes DI950 is also an easy to use machine coming with a colour touch screen with an icon driven menu, allowing both experienced and occasional users to use this machine. As well as this, the DI950 machine comes with a integrated high capacity envelope feeder and tower feeders, allowing for even greater productivity levels for your business.
If your business would like to save money on a folding inserting machine, then get a low cost Folding Inserting Machine Quote from us today for a similar machine and see how much you can save when buying from Mailcoms.
View our range of Pitney Bowes Folding Inserting Machine Envelopes.
Pitney Bowes DI950 Specifications
Speed: 5,400 letter per hour
Monthly Volume: Up to 150,000 items
Fold types: Letter C Fold, Single Fold, Accordion Z Fold, Double Fold, No Fold
Job Memories: Up to 20
Envelope Feeder Capacity: Up to 250
Sheet Feeder Capacity: Up to 350 Sheets
Number of Insert Feeders: Up to 4
Insert Feeder Capacity: Up to 350
Booklet Feeder: Optional
Integrity Mode Options: Optional
OptiFlow™ Belt Stacker: Yes
Tandem Stacker: Yes
Dimensions: Depth: 570mm, Height: 851mm, Length: 2261mm – 3633mm (Depending On Configuration)
Dimensions: Weight: 159KG to 230KG (Depending On Configuration)
Electrical: 120VAC, 60Hz