Pitney Bowes DI900 Folding Inserting Machine – Guide By Mailcoms
Pitney Bowes DI900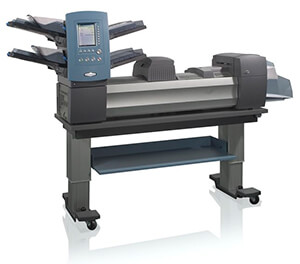 High Volume Folding Inserting Machine (speed of up to 4,300 letters per hour)
The Pitney Bowes DI900 folding inserting machine is one of Pitney Bowes largest volume machines that can process as much as 150,000 items every month and 4,300 items every hour. This machine was built for higher production purposes so that businesses with large volumes of mail can fold their mail faster and more professionally.
The Pitney Bowes DI900 FastPac machine is extremely easy to use and comes with a tower feeder that can hold up to 4 separate interchangeable feeders. This reliable folding inserting machine will do the job perfectly for you, giving you access to a wide range of benefits including high productivity levels and increased running time.
The DI900's tower feeder comes with the latest scanning technology so that both simple and complex folding jobs can be processed easily and professionally. This machine, like other folding inserting machines, will save your business time and money.
If your business would like to save money on a folding inserting machine, then get a low cost Folding Inserting Machine Quote here for a similar machine to the Pitney Bowes DI900 and see how much you can save when buying from Mailcoms.
View our range of Pitney Bowes Folding Inserting Machine Envelopes.
Pitney Bowes DI950 Specifications
Speed: 4,300 letter per hour
Monthly Volume: Up to 150,000 items
Fold types: Letter C Fold, Single Fold, Accordion Z Fold, Double Fold, No Fold
Media Sizes: Minimum: 127mm (W) x 135mm (H)
Media Sizes: Maximum: 250mm (W) x 356mm (H)
Media Thickness: 60gsm – 175gsm
Envelope Feeder Capacity: 250 Envelopes
Number of Sheet Feeders: 7
Sheet Feeder Capacity: 350 Sheets
Number of Insert Feeders: 4
Insert Feeder Capacity: 350 sheets
Job Memories: 20
Booklet Feeder: Optional
Integrity Mode Options: Optional
OptiFlow Belt Stacker: Yes
Tandem Stacker: Yes
Dimensions: Depth: 579mm, Height: 787mm – 851mm, Length: 1905 – 3379mm (Depending On Configuration)
Dimensions: Weight: 148KG to 220KG (Depending On Configuration)
Electrical: 120VAC, 60Hz