Pitney Bowes DI880 Folder Inserter
If you are a mail company, a copy shop, a distribution centre or simply have a large mail room then the Pitney Bowes DI880 folder inserter may be ideal for you. This folding inserting machine can save your business time and money whilst improving your profit margins. It operates much faster than any human and always folds mail accurately.
Pitney Bowes DI880 Folder Inserter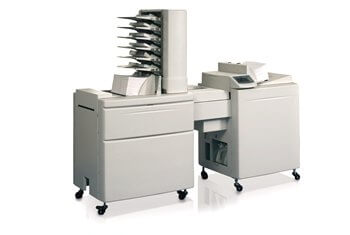 A wide range of features and capabilities are found with the DI880 folder inserter, many of which are only found in more advanced machines. For example up to 7 documents can be folded and inserted into one envelope and a booklet feeder are just two impressive features it possesses.
The DI880 folding inserting machine can operate at an incredible speed of 3,600 envelopes per hour, allowing for time to be saved, and it allows staff to be more productive elsewhere in the business due to its speed capabilities. It can also process a range of documents ranging from invoices to an entire booklet.
Due to a central LCD panel and automated job settings, setting up a job is very easy and fast to complete. Up to 24 job memories can be stored for repeat jobs, enabling even faster setup. As well as this the DI880 folder inserter can use a stacker which can be positioned to collate the folded and inserted envelopes.
Pitney Bowes DI880 Folder Inserter Specifications
View the specifications for the DI880 folding inserting machine below.
Folding Speed:

3,600 envelopes per hour

Folding Types:

Single, C fold, Z fold, double fold and no fold

Max Number of Feeders:

8 sheet feeders / 7 insert feeders

Job Memories:

Yes, 24

Sheet Feeder Capacity:

280 Sheets

Inserter Feeder Capacity:

Stack of inserts up to 150mm high

Envelope Capacity:

Stack of envelopes up to 318mm high

Colour Touch Screen:

Yes

Integrity Options:

Optional

Booklet Feeder:

Optional

Length:

810mm

Depth:

715mm

Height:

1550mm

Weight:

141 Kg
View our range of Pitney Bowes folder inserter supplies here.
You can use the Pitney Bowes DI880 folder inserter in line with a franking machine. View our range of franking machines here to find out more.