Pitney Bowes DI600 Folding Inserting Machine – Guide By Mailcoms
Pitney Bowes DI600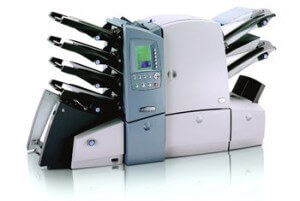 Mid Volume Folding Inserting Machine (speed of up to 4,000 letters per hour)
The Pitney Bowes DI600 folding inserting machine is a mid volume machine that allows your business to control each individual mail item, ensuring that your targeted customer receives the correct pages. The FastPac DI600 folding inserting machine comes with many great features such as three feeder stations which can handle a wide range of mail items. You can also use its manual feed tray and the most up to date folding technology to help your business get the most out of a folding inserting machine.
As well as this, the Pitney Bowes DI600 has an easy to use touch screen with icon driven menus, giving users ease of use with this machine. It doesn't matter if you are experienced user or just an occasional user, this folding inserting machine can be used by many. You can also save time and money for your business with the Pitney Bowes DI600 machine as money doesn't have to be spent on a human to manually fold your mail, as this machine will do it perfectly for you every time at a much faster pace.
If your business would like to save money for a folding inserting machine, then get a low cost Folding Inserting Machine Quote from us for a similar machine and see how much you can save when buying from Mailcoms.
View our range of Pitney Bowes Folding Inserting Machine Envelopes.
Pitney Bowes DI600 Specifications
Speed: 4,000 letters per hour
Fold types: Letter C Fold, Single Fold, Accordion Z Fold, Double Fold
Job Memories: Up to 20
Envelope Feeder Capacity: Up to 300
Sheet Feeder Capacity: Up to 325 Sheets
Number of Insert Feeders: Up to 2
Insert Feeder Capacity: Up to 300
Integrity Mode Options: Optional
OptiFlow™ Power Stacker: Optional
Dimensions: Depth: 570mm, Height: 760mm, Length: 1370mm
Dimensions: Weight: 102 Kg
Electrical: 100VAC to 240VAC, 50/60Hz, 10A