Pitney Bowes DI425 Folding Inserting Machine – Guide By Mailcoms
Pitney Bowes DI425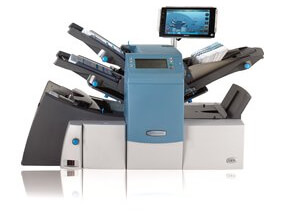 Mid Volume Folding Inserting Machine (speed of up to 3,500 letters per hour)
The Pitney Bowes DI425 folding inserting machine is a mid volume folding inserting machine that is supplied by Pitney Bowes. This machine is capable of reaching a top speed of 3,500 letters / cycles per hour and it comes with up to 20 job memories to help keep the set up time to a minimum. By using its full colour touch screen that comes with this machine, you can set up your jobs and access reports that will help you plan for any future mailings.
As well as this, the Pitney Bowes DI425 is simple to operate and was designed for easy operations. You can use this folding machine with ease by simply using the full colour touch screen. The FastPac DI425 machine will allow you to also reload the paper as the machine is in operation. Find out more about this incredible machine via the Pitney Bowes DI425 Brochure here.
If your business would like to save money on a folding inserting machine similar to the Pitney Bowes DI425, then get a low cost Folding Inserting Machine Quote from us today and see how much you can save when buying from Mailcoms.
View our range of Pitney Bowes Folding Inserting Machine Envelopes.
Pitney Bowes DI425 Specifications
Speed: 3,500 cycles per hour
Fold Types: Single Fold, Letter C Fold, Accordion Z Fold, Double Fold
Job Memories: 20
Media Size: Minimum: 127mm (W) x 127mm (H)
Media Size: Maximum: 229mm (W) x 406mm (H)
Media Thickness: 60 gsm to 120 gsm
Envelope Feeder Capacity: 300 Envelopes
Sheet Feeder Capacity: 325 Sheets
Insert Feeder Capacity: 300 Inserts
Number of Sheet Feeders: 2
Number of Insert Feeders: 1
Booklet Feeder: No
Integrity Mode Options: Optional
Basic OMR: Optional
Advanced OMR: Optional
Output Options: Vertical Power Stacker
Dimensions: Width: 1044mm, Depth: 568mm, Height: 525mm
Dimensions: 55 Kg
Electrical: 230VAC, 50Hz, 3A