Neopost IS420c Franking Machine Review
The Neopost IS420c franking machine, which is manufactured by Neopost Ltd, is a recently released franking machine from them. It replaces the standard IS420 model and as such comes with the latest Mailmark franking technology as standard and more advanced franking features.
Neopost IS420c Franking Machine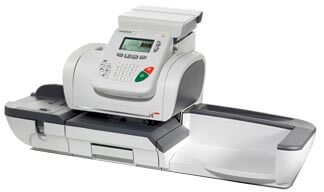 A range of features are present in the Neopost IS420c franking machine such as a semi-automatic feeding system and the ability to connect to a LAN or WiFi box. Its feeding system allows franking speeds of 65 letters per minute to be reached and connecting to a LAN gives the user the added convenience of adding postage at any time in the day.
As well as this the IS420c comes with the latest franking prices as standard. Access and use the lowest prices on the market. As a Mailmark franking machine the prices are lower and can save any business more money. Also help expand the business name by franking a personalized logo onto outgoing mail. This can potentially increase profits and will make your business more known.
Other useful features that come with the Neopost IS420c franking machine include job memories, smart meter technology and an integrated weighing scale. This is not the only franking machine on the market, and you can find similar machines to the IS420c from Mailcoms. View our franking machines here.
View our range of Neopost IS420c Franking Machine Supplies here.
Purchase Neopost IS420c Franking Ink here.
IS420c Specifications
View the specifications of the Neopost IS420c Franking Machine below.
Speed:

65 LPM

Feeding System:

Semi-Automatic Feeding

Tape Dispenser:

Automatic

Weigh Platforms:

3, 5, 10 or 30 Kg scales

Max. Envelope thickness:

12mm

Min. Envelope Size:

89mm x 127mm

Max. Envelope Size:

229mm x 324mm

Job Memories:

9

Connectivity:

LAN or Analogue

Adverts:

8 Standard, 2 Open

Departmental Accounts:

25 as standard, 100 optional

PIN Protection:

Yes

Smart Meter Enabled:

Yes

Mailmark Compatible:

Yes
IS420c Dimensions
View the dimensions of the Neopost IS420c franking machine below.
Length of machine:

748mm

Height of machine:

298mm

Depth of machine:

375mm