Neopost IN-360 Franking Meter
The Neopost IN-360 franking meter is a new franking meter supplied by Neopost and it is ideally designed for smaller sized mail volumes. It can be used to enhance the look of your mail items and to give businesses access to VAT services. The IN-360 is suitable for any business that franks up to 100 letters per day, based on our experience with a similar franking meter.
About the Neopost IN-360 Franking Meter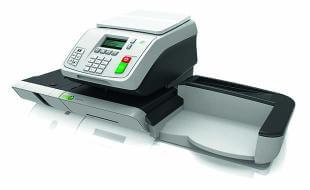 Getting the correct postage applied will be made easier as ever with the Neopost IN-360 franking meter as an integrated weighing scale is always available. Weigh your item and never fall victim to a surcharge. Smart technology will allow you to reclaim VAT on any VAT liable services and a pass through feeder can process mail easily.
As many as 45 letters can be franked per minute onto any mail item up to 10mm thick with this low volume franking meter. Handling of mixed mail volumes is made even easier with the Neopost IN-360 franking meter thanks to differential weighing. Accurately price up any mail item all the time.
Your mail can portray a more professional image and promote the business as envelopes can have marketing messages franked on them. Store 10 on the machine and expand the business name. Postage expenses can also be tracked as departmental accounts are available. Benefit from 30 or 100 accounts.
Click here to view our range of Neopost IN-360 supplies.
Neopost IN-360 Specifications & Options
Take a gander at the various Neopost IN-360 specifications and the various Neopost IN-360 options below.
Speed:

45 letters per minute

Feeder:

Pass through feeding system

Max. Envelope Thickness:

10mm

Weighing Platform:

3, 5, 10 or 30 Kg options

Advertisements:

10 available

Departmental Accounts:

30 or 100 available

Job Memories:

9 available

Connection:

Wi-Fi or LAN

PIN Security:

Available

Smart Meter Technology:

Available

Mailmark Technology:

Available

Incoming Mail Data Stamp:

Available

Differential Weighing:

Available

Catch Tray:

Available

Barcode Scanner:

Available

External USB Printer:

Available

Length:

432mm

Depth:

381mm

Height:

254mm
Do you like the look of the in the Neopost IN-360 franking meter? View our range of franking machines here and receive a low cost quote for a very similar franking meter to the IN-360.