Neopost IJ65 Franking Machine – Guide By Mailcoms
Neopost IJ65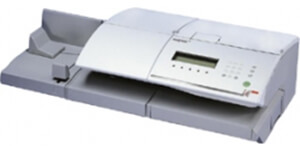 Mid to High Volume Franking Machine (Speed of up to 120 franks per minute)
The Neopost IJ65 mid to high volume franking machine can frank many items of mail per day for your business. It is both a sturdy and reliable franking machine, and if you want a envelope feeder that works fast and is fully automatic, the Neopost IJ65 franking machine is perfect for you. The Neopost IJ65 also comes with an integrated 5KG weighing scale which will help you calculate your postage costs when sending mail.
As well as all of these features, the Neopost IJ65 franking machine also has a new, inbuilt transport and digital printing system that will adjust when franking various sized envelopes. It will also frank clearly on uneven and even surfaces that are not thicker than 16mm. The Neopost IJ65 will give a clean and clear frank every time, helping to make your mail look more professional than ever before. Save your business both time and money with this perfect franking machine.
Click here to buy or rent an IJ65 Franking Machine
Click here to get a low cost quote for a Franking Machine
Click here to view our range of Neopost IJ65 Franking Machine Supplies
Neopost IJ65 Specifications
Speed: 120 Letters per minute
Scale: There is a 5KG weighing scale
Feeder: Automatic
Smart Meter: No
Max. envelope thickness: Up To 16mm
Connection Method: Analogue Line Connection
Job memories: 10
Departments: 50
Envelope size: DL, C5 & C4
Dimensions: Height: 250mm, Width: 335mm, Depth: 460mm, Weight: 16KG
Neopost IJ65 Running Costs
Ink: £59.95 for around 50,000 prints
Franking Labels: £16.95
Logo & Return Address: Free
Royal Mail Rate Updates: Free
Service Agreement: £399.00 per annum
Installation Charge: Free
Postage Rate Change Fees: Free
Share This On Social Media!