Neopost DS-85 Folding Inserting Machine – Guide By Mailcoms
Neopost DS-85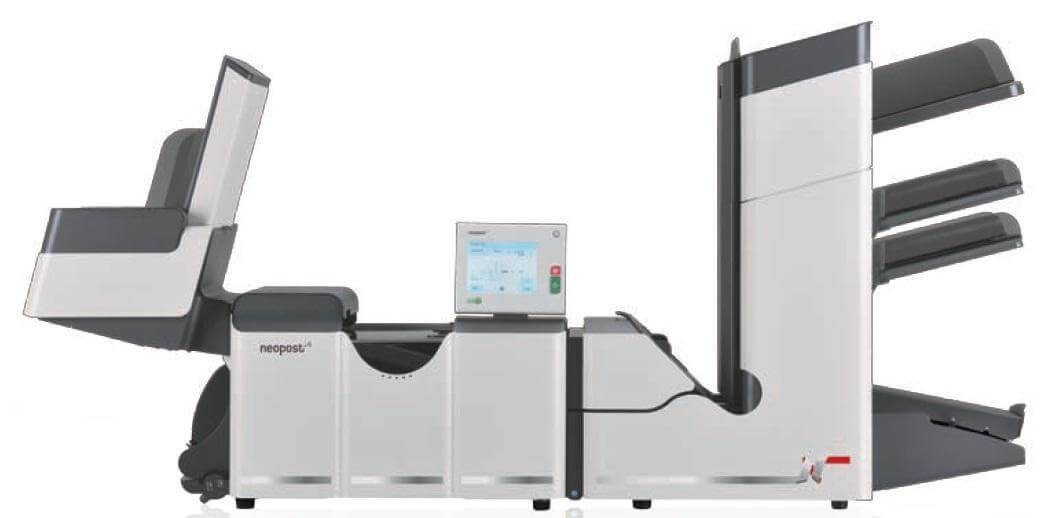 Mid Volume Folding Inserting Machine (Speed of up to 4,000 letters per hour)
The Neopost DS-85 folding inserting machine is a new mid volume machine manufactured by Neopost. The DS-85 is a newer machine and can process up to 4,000 letters per hour, making it a mid volume folding inserting machine. This machine is quick and easy to use, coming with a full colour touch screen to help make using this machine easier.
As well as this, the Neopost DS-85 machine comes with an array of features. These features include up to 6 feeders to help create your own professional mail items, track your production output via barcode printing and easy to use one touch buttons, enabling even the newer users to benefit fully from the DS-85 machine. If your business wishes to buy a folding inserting machine, then the Neopost DS-85 is a great machine to start off with.
However, if your business would like to save money on a folding inserting machine, then receive a low cost Folding Inserting Machine Quote from Mailcoms here for a similar machine and see how much money you can save with us.
View our range of Neopost Folding Inserting Machine Envelopes.
Neopost DS-85 Specifications
Speed: 4,000 letters per hour
Fold types: Letter, Single Fold, Zigzag Fold, Double-Parallel Fold, No Fold
Programmable memory: 20 Jobs
Number Of Feeders: Up to 6
Document Feeder Capacity: 725
Envelope Feeder Capacity: 325
Maxi Feeder Capacity: 1,200
Power Fold: Yes, up to 10 sheets
Manual Feed: Yes
Colour Touch Screen: Yes
Tip to Tip Sealing: Yes
Short Feeders: Optional
Optical Mark Recognition: Optional
Barcode Reader: Optional
Mail Piece Production Control: Optional
Dimensions: Depth: 420mm, Height: 925mm, Length: 1820mm
Dimensions: Weight: 110 Kg