Neopost DS-70 Folding Inserting Machine – Guide By Mailcoms
A folding inserting machine will professionally and accurately fold your mail and insert it into an envelope quickly and efficiently. This is just some benefits of using one such machine. One of the many folding inserting machines currently on the market is the Neopost DS-70 folding inserting machine, and this model is perfect for many businesses. Coming with several feeders, a fast speed and much more.
Neopost DS-70
The Neopost DS-70 folding inserting machine is one such machine that can be automated with a franking machine. This means that you can fold your mail then it can be franked giving you the benefits of both a franking machine and a folding inserting machine. You will also always ensure every recipient receives the right letter. This will protect you against double feeding as the letter thickness will always be measured accurately via the electro-mechanical thickness detection feature.
These are not the only features coming with the Neopost DS-70 machine as it also comes with a full colour touch screen for easy usage. With clear pictograms, everyone in your office will be able to use this machine with very little practice. It is said to be easier than a photocopier. Use up to 20 job memories for your most commonly used jobs, all of which can be easily accessed via the integrated touchscreen.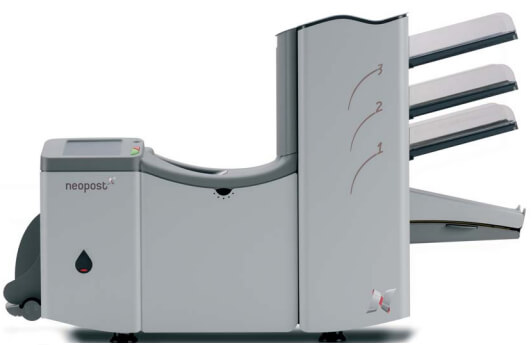 Low to Mid Volume Folding Inserting Machine (speed of up to 3,000 letters per hour)
The Neopost DS-70 folder inserter is capable of folding and inserting at an incredible speed of 3,000 letters every hour. This speed is much faster than manual completion and this speed is perfect for low to mid volumes of mail.
If you send out relatively large sized letter volumes, then this folder inserter will be very beneficial. The Neopost DS-70 will always fold your mail accurately and professionally. This will help improve your business image and help expand your business brand.
View our range of Neopost envelopes here.
View our range of Neopost DS-70 envelopes here.
Neopost DS-70 Specifications
View the specifications for the Neopost DS-70 folding inserting machine here.
Speed:

3,000 cycles per hour

Fold types:

Letter, Single Fold, Zigzag Fold, Double-Parallel Fold, No Fold

Job Memories:

20

Folding Capacity:

8 Sheets

Number of Feeders:

Up to 3

Document Feeder Capacity:

325 Sheets, 80 gsm

Document Height:

90mm – 356mm

Document Width:

130mm – 230mm

Envelope Feeder Capacity:

325 Envelopes

Envelope Length:

90mm – 162mm

Envelope Width:

160mm – 248mm

Set Thickness:

2.5mm

Short Feeders:

Yes

Multiple Sheet Feeding:

Yes

Optical Mark Recognition:

Yes

Dimensions:

Depth: 420mm, Height: 670mm, Length: 1200mm

Dimensions:

Weight: 80 Kg
Would you like a brand new folding inserting machine similar to the Neopost DS-70? Is so then you can view our range of folding inserting machines here.