Neopost DS-60 Folding Inserting Machine – Guide By Mailcoms
A folding inserting machine operates at incredible speeds in comparison to humans and they are capable of improving your businesses image. These are just two benefits you can gain from using the Neopost DS-60 folder inserter. It comes with several feeders and it capable of folding all of your mail with ease. Improve your businesses efficiency and help improve productivity with the DS-60.
Neopost DS-60
If you manually folder, insert and seal your mail you will know how time consuming and tedious this task can be. The Neopost DS-60 folder inserter is one such machine that is capable of improving this process. You will be able to automatically handle your mail and save yourself both time and money. Your mail will always look professional and this machine is incredibly easy to operate.
The Neopost DS-60 machine will collect and assemble all your documents before the folding occurs. This will improve your business image as customers will open their mail and the documents will be in the correct order. You can use up to 9 job memories for your commonly used jobs. This will make the Neopost DS-60 folding inserting machine be as easy to use as a photocopier.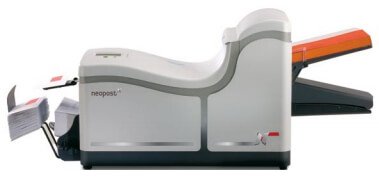 Low Volume Folding Inserting Machine (speed of up to 2,200 letters per hour)
The Neopost DS-60 folding inserting machine is a low volume machine. It can fold at a much faster speed in comparison to any human but it is not as productive as higher volume machines. Fold and insert up to 2,200 envelopes per hour. This means that 2,200 envelopes will be filled per hour. This is this machines top speed when in full operation.
If your business sends out smaller sized mail shots or wish to make folding your mail easier, the DS-60 machine will be perfect for you. Always fold your mail with accurate precision and help improve your business image by doing so.
View our range of Neopost envelopes here.
View our range of Neopost DS-60 envelopes here.
Neopost DS-60 Specifications
View the specifications for the Neopost DS-60 folding inserting machine here.
Speed:

2,200 cycles per hour

Fold types:

Letter, Single Fold, Zigzag Fold, Double-Parallel Fold, No Fold

Job Memories:

9

Folding Capacity:

5 Sheets

Document Feeder Capacity:

325 Sheets, 80 gsm

Document Height:

90mm – 356mm

Document Width:

130mm – 230mm

Envelope Feeder Capacity:

150 Envelopes

Envelope Length:

90mm – 162mm

Envelope Width:

160mm – 248mm

Set Thickness:

2mm

Tip-to-Tip Sealing:

Yes

Multiple Sheet Feeding:

Yes

Dimensions:

Depth: 420mm, Height: 520mm, Length: 1200mm

Dimensions:

Weight: 75 Kg
Would you like a brand new folding inserting machine similar to the DS-60? Is so then you can view our range of folding inserting machines here.