Matrix F62 Postal Franking Machine
The Matrix F62 postal franking machine is currently Frama's mid volume franking machine and as such is ideal for mail volumes of 500 items per day. This is based on our experience with similar franking machines. It replaces the older Matrix F4 and Matrix F6 range of machines and as such possesses more features including Mailmark.
Matrix F62 Postal Franking Machine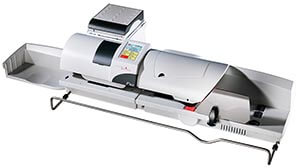 The automatic feeding of the Matrix F62 postal franking machine is capable of processing as many as 95 letters per minute. It comes with an integrated auto-adjustment that allows letters up to 10mm thick to be franked with ease. This can even be upgraded to have an automatic sealer that will seal your mail.
For ease of use the Frama Matrix F62 postal franking machine comes with a colour display screen and 36 one touch functions. This will enable all mailings to be set up with incredible ease by all members of staff. Job memories can also be stored so that common jobs can be saved for quicker access.
Mailmark and smart meter can also be accessed and used with the Matrix F62. This means that all the possible extras can be benefited from. Mailmark was introduced in 2014, and the F62 was one of the first models to possess both Mailmark and smart meter technologies.
Click here to view a range of Matrix F62 franking machine supplies.
Matrix F62 Key Details
View the key details and features that the Matrix F62 postal franking machine possesses here.
Speed:

95 LPM

Feeding System:

Automatic

Weighing Platforms:

Yes, 2, 5 or 30 Kg Available

Connectivity:

LAN

Maximum Envelope Thickness:

Up to 10mm

One Touch Functions:

Yes, 36 Available

Job Memories:

Yes

Advertisements / Slogans:

Yes, 12 Available

Departmental Accounts:

Yes, 100 or 250 Available

PIN Security:

Yes

Smart Meter Technology:

Yes

Mailmark Technology:

Yes

Length of Machine:

1085mm

Depth of Machine:

621mm

Height of Machine:

219mm
View our range of franking machines here and receive an instant franking machine quote for a similar machine to the Frama Matrix F62.