Matrix F32 Postal Franking Machine
Postal rate changes, software updates and uploading graphics can be done much quicker than ever before thanks to an Ethernet LAN connection. This means that users of the Frama Matrix F32 postal franking machine can use a more secure, practical and quicker solution to a traditional analogue line.
Matrix F32 Postal Franking Machine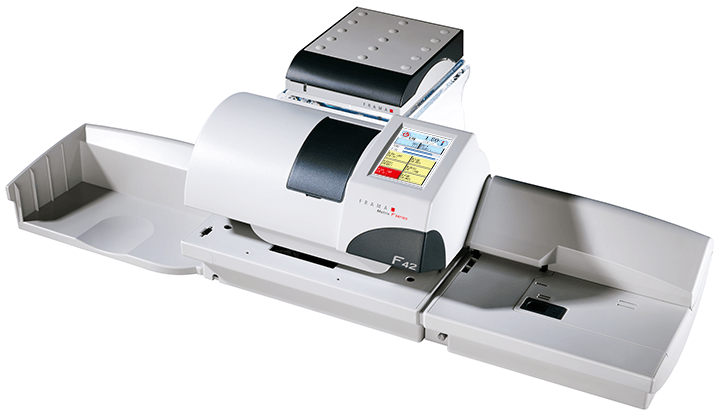 Mailmark franking technology is accessible with the Matrix F32 postal franking machine as standard and this means more extras and benefits can be gained. Lower franking prices, a new 2D barcode and using a LAN connection are just some of its many features. The Matrix F32 model was also one of the first machines to become Mailmark compliant.
A new colour display utility is integrated into the Frama Matrix F32 postal franking machine and this comes with 30 one touch buttons and functions. The touch screen will display the appropriate content when required and gives the user a clear overview. A range of features can also be accessed from this touch screen.
As well as this a semi-automatic feeding system is used to frank mail. This means a top franking speed of 50 letters per minute can be reached for mail items 10mm thick or less. A franking label can be used for any larger mail items. A franking machine of this speed should be sending up to 300 items per day based on our experience.
Click here to view a range of Matrix F32 franking machine supplies.
Matrix F32 Key Details
View the key details and features that the Matrix F32 postal franking machine possesses here.
Speed:

50 LPM

Feeding System:

Semi-Automatic

Weighing Platforms:

Yes, 2, 5 or 30 Kg Available

Connectivity:

LAN

Maximum Envelope Thickness:

Up to 10mm

One Touch Functions:

Yes, 30 Available

Job Memories:

Yes

Advertisements / Slogans:

Yes, 12 Available

Departmental Accounts:

Yes, 25 or 200 Available

PIN Security:

Yes

Smart Meter Technology:

Yes

Mailmark Technology:

Yes

Length of Machine:

830mm

Depth of Machine:

380mm

Height of Machine:

220mm
View our range of franking machines here and receive an instant franking machine quote for a similar machine to the Frama Matrix F32.