Matrix F22 Postal Franking Machine
Due to the HQ Print mode which can frank mail at 600 dpi printing resolution, advertising your business can be done clearer. The Frama Matrix F22 postal franking machine can produce sharp and crisp adverts onto your envelopes, giving you mail that cutting edge professionalism. Improve your image and use this machine for free advertising.
Matrix F22 Postal Franking Machine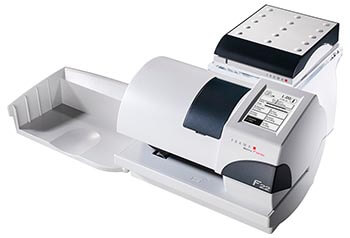 Designed to meet the franking needs of its users, the Frama Matrix F22 postal franking machine comes with a suite of franking features. Due to its ease of use, users can use the franking machine with very little training needed. An integrated touch screen, one touch buttons and job memories all aid the franking process.
Eliminate the risk of miss paying for a mail item with the Matrix F22 franking machine by using its integrated weighing scale. Weigh all mail accurately and never guess the price of a mail item again. Also benefit from weighing a stack of mail as the Matrix F22 will calculate each letter automatically.
As well as this the Matrix F22 postal franking machine was one of the first models to become Mailmark compliant and as such the latest franking technology is supported. This means that users can benefit from even lower postage tariffs, franking a new 2D barcode onto mail and using a LAN connection. Smart meter is also available.
Click here to view a range of Matrix F22 franking machine supplies.
Matrix F22 Key Details
View the key details and features that the Matrix F22 postal franking machine possesses here.
Speed:

50 LPM

Feeding System:

Pass Through

Weighing Platforms:

Yes, 2, 5 or 30 Kg Available

Connectivity:

LAN

Maximum Envelope Thickness:

Up to 10mm

One Touch Functions:

Yes, 24 Available

Job Memories:

Yes

Advertisements / Slogans:

Yes, 8 Available

Departmental Accounts:

Yes, 10 or 50 Available

PIN Security:

Yes

Smart Meter Technology:

Yes

Mailmark Technology:

Yes

Length of Machine:

570mm

Depth of Machine:

380mm

Height of Machine:

220mm
View our range of franking machines here and receive an instant franking machine quote for a similar machine to the Frama Matrix F22.