Matrix F12 Postal Franking Machine
Experience simple navigation features such as a clear touch screen and 18 OneTouch buttons with the Frama Matrix F12 postal franking machine. These features will ensure that everyone can operate the franking machine and benefit from franking. Access the lowest franking prices and a suite of features with this machine.
Matrix F12 Postal Franking Machine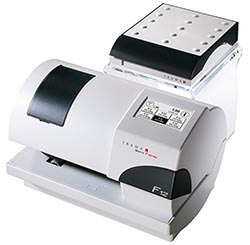 Eliminate the possibility of miss paying for a mail item with the Frama Matrix F12 postal franking machine. A pop-up weight display will show on the machines display screen highlighting the actual weight of a weighed mail item. This will ensure that you accurately pay the correct postage every time. Use either a 2 or 5 Kg scale.
This is a smart solution to franking and as such comes with the latest Smart Meter and Mailmark technologies. Smart meter will give you exclusive access to all VAT applicable services and allow smart blue ink to be used. Mailmark on the other hand will provide you with even lower franking prices, a new way of franking and much more.
Businesses can even expand their business name on their mail with the Matrix F12 postal franking machine. Store advertisement graphics on the machine and promote your business with recent offers or just you logo. Not only this but this machine uses manual feeding which can provide your mail with more accurate insignia's.
Click here to view a range of Matrix F12 franking machine supplies.
Matrix F12 Key Details
View the key details and features that the Matrix F12 postal franking machine possesses here.
Speed:

50 LPD

Feeding System:

Manual

Weighing Platforms:

Yes, 2 or 5 Kg Available

Connectivity:

LAN

Maximum Envelope Thickness:

Up to 10mm

One Touch Functions:

Yes, 18 Available

Job Memories:

Yes

Advertisements / Slogans:

Yes, 8 Available

Departmental Accounts:

Yes, 9 or 25 Available

PIN Security:

Yes

Smart Meter Technology:

Yes

Mailmark Technology:

Yes

Length of Machine:

570mm

Depth of Machine:

380mm

Height of Machine:

210mm
View our range of franking machines here and receive an instant franking machine quote for a similar machine to the Frama Matrix F12.