IS-440 Postal Franking Machine
The Neopost IS-440 postal franking machine is fast, accurate and will weigh all your mail with ease. By using the differential weighing option the IS440 will sort out all your mail that is on the weighing scale. An integrated weighing scale is an optional choice and it will ensure accurate payment always occurs.
IS-440 Postal Franking Machine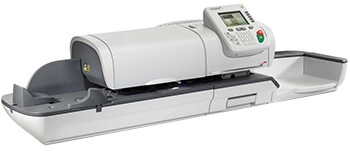 A fully automated feeding system will ensure that any business can send out their daily mail volumes. Coming with a top franking speed of 95 letters per minute and being capable of franking mail up to 12mm thick, the Neopost IS-440 postal franking machine is ideal for all mid-sized mail volumes.
Stay connected with LAN or WiFi with the IS-440 postal franking machine. Save time and increase efficiency when taking advantage of these connections. Users will be able to connect to any type of network and receive faster updates and re-crediting. This will remove the need of using an analogue line.
The IS-440 postal franking machine is also very easy to use, coming with an operational control system that can ensure even the occasional user can frank mail successfully. Various one touch functions and a clear screen are integrated into the machine. Using these features will ensure errors are eliminated and productivity is improved.
Click here to view a range of IS-440 franking machine supplies.
IS-440 Key Details
View the key details and features that the IS-440 postal franking machine possesses here.
Speed:

95 LPM

Feeding System:

Automatic

Weighing Platforms:

Yes, 3, 5, 10 or 30 Kg Available

Connectivity:

LAN & WiFi

Maximum Envelope Thickness:

Up to 12mm

Job Memories:

Yes, 9 Available

Advertisements / Slogans:

Yes, 8 Available

Departmental Accounts:

Yes, 25 or 100 Available

PIN Security:

Yes

Smart Meter Technology:

Yes

Mailmark Technology:

Yes

Differential Weighing:

Optional

Length of Machine:

1043mm

Depth of Machine:

375mm

Height of Machine:

298mm
View our range of franking machines here and receive an instant franking machine quote for a similar machine to the Neopost IS-440.