How Much Do Franking Machines Cost & How Much Can You Save?
Direct mail advertising in business is still used and did you know that it does still work?! Everyday thousands of direct mail envelopes get sent in the post and if you are a business that sends direct mail, then you need to be made aware of franking machines.
If you don't know what a franking machine is, they are very useful machines that can be used to send your post for cheaper. You can save thousands of pounds per year using one and a lot of time can be saved too! Read on below if you are interested in benefiting from such machines.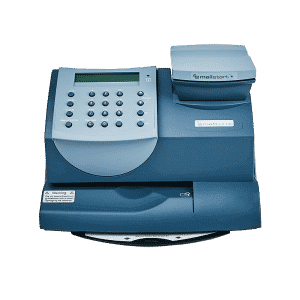 The Cost Of A Franking Machine
A common question we receive here at Mailcoms is "How much does a franking machine cost" and the answer does depend on various factors. These factors include the amount you intend to send on a daily basis, the features you wish to have, purchasing or renting the machine and more. Take a look below at the many factors that affect the cost of getting a franking machine for your business.
Mail Volume
Some businesses only send as little as 5 letters per day. Other businesses send up to 1000 items per day. The volume really does vary from business to business. However, no matter how much mail you send on a daily basis, there is a perfect franking machine for you. Here at Mailcoms we have several franking machines that are ideal for certain volumes of mail, take a quick look below:
– Mailstart+ | Entry level franking machine | Ideal for 20 items a day
– Mailbase | Low volume franking machine | Ideal for 100 items a day
– Mailbase+ | Low to mid volume franking machine | Ideal for 300 items a day
– Mailbase Speed | Mid volume franking machine | Ideal for 500 items a day
– Send Pro Series | High volume franking machine | Ideal for 800 items a day or more
Purchase Or Renting
Another key factor that can dictate the price you'll pay is whether you buy or rent the machine. Some businesses are not always sure about buying a franking machine outright as it can be a large upfront cost. However you can always rent a franking machine if it is more ideal. For specific purchase and rental prices please get in touch with us directly on 01543 572 776.
Remember a franking machine is a long term investment and it will take time to see your savings, but it will almost certainly pay for itself in the long run and it will truly benefit your business. If you want to know how much you can save simply use our franking savings calculator here or keep reading on below.
Franking Savings
By using a franking machine instead of using stamps, you will automatically benefit from Royal Mail Mailmark discounts. The latest prices (as of March 2018) allow businesses to save even more. For every franked 1st class letter with a Mailmark franking machine, you can save 10p. For every franked 2nd class letter with a Mailmark franking machine, you can save 19p. The savings you can make can be huge.
Download our Royal Mail Postage Rates 2018 Chart here to see a complete list of the savings that you can make during 2018/2019.
Start Franking Today & Start Saving
A franking machine can help massively when sending your direct mail. If you are interested in getting a franking machine or upgrading to a Mailmark franking machine with even lower prices available, then please view our franking machine page here or call us today on 01543 572 776.
We are a Royal Mail Authorised Independent Inspector & Maintainer of Franking Machines with over 20,000 customers nationwide and we can supply you with our very own range of models.