Frama Matrix F42 Postage Franking Machine
Frama can currently offer UK businesses with a range of franking machines that will make your mail room run more smoothly than ever before. One such model that is currently available is their Matrix F42 postage franking machine, a mid volume model that can process up to 65 letters every minute and is ideal for 500 items per day.
Frama Matrix F42 Postage Franking Machine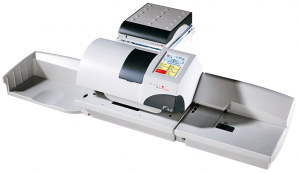 Top franking speeds are made possible with the Frama Matrix F42 postage franking machine thanks to its automatic feeder. Process any mail item 10mm thick or less with the feeder and achieve ideal franking speeds. Setting up any job is made easy as 36 one touch buttons and a clear screen enables easy usage of the Matrix F42.
Always pay the correct price for your mail as an integrated weighing scale will accurately weigh your mail items and price them up accordingly. A 2, 5 or 30 Kg scale can be used. The latest postage rates are also integrated onto the machine to help ensure that you are up to date with Royal Mail's pricing.
The Matrix F42 postage franking machine is also up to date with the franking technologies. This means that businesses can get the most out of their franking machine with Mailmark and Smart Meter abilities. Other features included with this model include job memories, departmental accounts, advertisements and more.
Click here to view a range of Matrix F42 franking machine supplies.
Further Information
View even more information about the Frama Matrix F42 Postage Franking Machine below.
Top Franking Speed:

65 letters per minute

Feeder Used:

Fully Automatic

Weighing Scales:

Yes, 2 Kg, 5 Kg or 30 Kg Options

Connection Type(s):

LAN

Max. Envelope Thickness:

10mm

One Touch Keys:

Yes, 36

Job Imprint Memories:

Yes

Advertisements:

Yes, 14

Departmental Accounts:

Yes, 50 or 250

PIN Security:

Yes

Smart Meter Enabled:

Yes

Mailmark Compliant:

Yes

Dimensions:

L: 830mm, D: 380mm, H: 220mm
View our latest range of franking machines here and receive instant franking machine quotes for a similar model to the Frama Matrix F42 Postage Franking Machine.